October 7. 2016

I am happy to announce that one of the city's top jazz clubs, Sweet Lorraine's on St. Claude Avenue, has reopened its doors after closing two years ago because of the disruption caused by the construction of the St. Claude streetcar line. The 1.6 mile track on N. Rampart and St. Claude was opened October 3, so access to the club was once again available.

Paul Sylvester, who owns the club, promised me nearly two years ago that the club would reopen. He now hopes that new business opportunities will come to the neighborhood with the new tracks. "For a long time, for the past 13 or 14 years, I was the lone ranger in this area," he said.

July 1
Pete Fountain will be celebrating his 86th birthday on Sunday, July 3. Happy birthday, my friend!!
June 6
Ace New Orleans native and NOCCA alum pianist
Jonathan Batiste
has just been named the new bandleader of the upcoming Stephen Colbert "Late Show" on CBS TV. The show will debut in September. This appointment makes me an even bigger fan of Colbert.
We remember that this month (April) we celebrate the centennial of Billie Holiday's birth in Philadelphia, April 7, 1915. There will always be only one Billie.
April 17
Rain and thunderstorms plagued this year's
French Quarter Festival.
As a result, some of the fest's 23 stages were shut down while others were forced to relocate.
OffBeat
reports that attendance dropped precipitously by 47% to an estimated 386,000 from last year's record of 733,000. Nevertheless, we are told that hotel occupancy in the city during the four-day weekend was at 98% full. Not bad at all.
March 7
Ken Burns
will be coming to New Orleans at the end of March. Burns, the man behind the controversial documentary
Jazz
will lead the "Ken Burns Jazz Event," a pricey tour of people able to pay upwards of $4500 apiece to hear lectures, live music and see the major jazz sites in the city from March 25 through March 29. I suppose it's good for the city and for jazz, but it sounds to me like an overpriced holiday for those who have plenty to spend.
Jan Ramsey is reporting in the current OffBeat mag that there is a group preparing to create a
Traditional Jazz Museum
in New Orleans. At the moment, they seem to be trying to identify an appropriate site for the museum. Reading between the lines, I think Jan is trying to get the new owner (yet to be named) of the World Trade Center to buy in on the proposal. Let's see how it all shakes out, so stay tuned.
February 12
On March 26-27, 2015 The University of Montana will be holding the official
Buddy DeFranco Tribute
event in honor of the passing of one of the legends of the clarinet, Buddy DeFranco.
UM has is the home of the Buddy DeFranco Jazz Festival, which showcased Buddy and other jazz greats for 35 years. Eddie Daniels and other artists will pay tribute to Buddy in two days of concerts and a tribute ceremony. The International Clarinet Association membership is invited to attend.
Buddy DeFranco (1923-2014), the innovative clarinetist who rose from the remains of the swing era to forge new and lasting prominence as the instrument's pre-eminent interpreter of bebop, died on Wednesday, December 24, 2014 in Panama City, Fla. He was 91.
For more information call Griztix at (406) 243.4581, visit www.griztix.com or call Maxine Ramey at (406) 243-4518.
"DeFranco, unbearably challenged by Charlie Parker, attacked bebop head-on and mastered it," Whitney Balliett wrote in a New Yorker magazine profile in 1990. "He developed such fluency and invention and speed that he was considered the supreme jazz clarinetist. His work has never faltered, and he has kept the instrument alive in jazz simply by playing it so well."
Mr. DeFranco's goal, he told the jazz writer Ted Panken in 1999, was putting his own stamp on whatever music he was playing "so that you become an original, so that people will say, when they hear your record: 'That's who it is. That's Bird. That's Art Tatum. That's Oscar Peterson. That's Buddy.' "
He was named a National Endowment for the Arts Jazz Master, the country's highest honor for jazz musicians, in 2006. But his quest to conquer the clarinet and its challenges never ceased.
"You know, this is all tricky stuff," Mr. DeFranco told the jazz critic Howard Mandel. "Once I was doing some school clinics, and one of the great symphonic clarinet players, Daniel Bonade of the Philadelphia Orchestra, was doing another clinic in the same school. I used to pick the brains of as many clarinet players as I could, to see how they got their sound, what reeds they used, everything. So I went to hear his clinic, and at the end I sidled up and said, 'When do you finally master the clarinet?' And he said: 'Master the clarinet? That's the funniest thing I ever heard.'
January 15
An email from veteran clarinetist
Joe Torregano
, 62, reports that he is currently being treated for a brain tumor. He adds, "I completed radiation and am awaiting chemo. The CD complete with your liner notes is next on my list." He had recently been treated for another form of cancer and was pronounced cancer-free about two years ago.
Please join me in praying for Joe's full recovery. You can send your good wishes to him at the following email address: jct228@​yahoo.com.
January 3, 2015
Exciting news from the
New Orleans Jazz Orchestra
:
Dear NOJO Family,
This is the most meaningful and monumental time in the 12-year history of the New Orleans Jazz Orchestra. We have created the very first performance hall built for Jazz here in the city that created the music –
The Peoples Health New Orleans Jazz Market.
This moment would not have been possible without the guidance of NOJO's trusted Board of Directors, led by Chairman Ron Forman. NOJO's staff has balanced the demands of this building project and the daily details of our growing non-profit business, while coordinating the organization's performance and touring schedule, education initiatives, and programmatic endeavors.
Now that construction is complete, it is time to magnify our vision, broaden our dreams, and fill this new space with progressive ideas that showcase what we love about this city. In 2015, our innovative concerts will feature local and national artists that will push the envelope of creativity and challenge audiences' expectations. This architecturally stunning space will house daytime activities for senior citizens, a Science-Technology-Engineering-Arts-Math (STEAM) Zone, a digital Jazz archive, and a portal to the New Orleans Public Library. We will also continue to provide year-round, affordable youth music education to nearly 200 students each semester through The Irvin Mayfield School of Music for Kids, in partnership with the University of New Orleans.
As we move into the New Year, NOJO will continue to curate experiences that enhance lives through truth and authenticity. We will share our love of New Orleans and the lifestyle of Jazz on Oretha Castle Haley Boulevard, as we continue to work with our neighbors to transform Central City into the vibrant community it once was. Finally, we will take great pride in using the beauty of our craft to elevate the spirit of every individual we are privileged to encounter at the Jazz Market, in New Orleans and around the world.
As you plan your 2015 giving, please consider contributing a one-time or monthly gift to the organization's efforts. We are grateful for all who have supported NOJO over the years and are excited to share our new developments with you as they unfold. We also ask that you save the date for NOJO's 2015 Gala – the first to be hosted at the Peoples Health New Orleans Jazz Market – on Friday, April 24th. For more details on the gala and other NOJO initiatives, please contact Sarah Bell (504.913.0575, sbell@​thenojo.com).
Sincerely,
Irvin Mayfield Ronald Markham
Artistic Director President & CEO
November 14
Eddie Bayard reports that veteran New Orleans trumpeter and bandleader
Herb Tassin
passed away recently in Nashville, TN. Tassin was the longtime leader of the house band at the Roosevelt/​Fairmont Hotel's Blue Room. He also played with Pete Fountain occasionally as well as many other bands. He is said to have been in his 80s, but no further details are available at this time. See Photos page.
August 1
The
New Orleans Jazz & Heritage Foundation
announced a partnership with the
Louis Prima and Gia Maione Prima Foundation
. The Prima Foundation's donation to the NOJ&HF is for music instruction and career development. Accordingly, the "Louis Prima and Gia Maione Prima Foundation, Inc. Brass Instrument Room" will be dedicated as part of the grand opening of the
George and Joyce Wein Jazz & Heritage Center
in December. The latter will be a state-of-the art education and community center housed in a renovated historic building on Rampart Street.
July 9
In yet another instance of musical "noise" in the city,
Buffa's Bar & Restaurant
on Esplanade Avenue was sued by a neighbor for "the intolerable music that emanates from Buffa's back room." As a not infrequent patron of Buffa's, I agree with Jan Ramsey's question, "How is this spate of lawsuits against music conducive to keeping New Orleans' reputation as a music city?"
July 8
Former New Orleans mayor
Ray Nagin
was sentenced to 10 years in federal prison today, after earlier being convicted of 20 of 21 counts of bribery, wire fraud, tax evasion, etc. Nagin was not the leader of the fraudulent conspiracy, one of the leaders of whom--businessman Frank Fradella--received an even more severe penalty of 17 years in a separate court decision. Nevertheless, many locally considered the former mayor's sentence too lenient. In an informal poll of more than 2,500 readers by nola.com, >65%
considered the penalty too light, while another 6% had mixed feelings about the result.
July 1
An alert (or reminder) about a couple of major exhibitions of interest to jazz fans. First off, is
Shout, Sister, Shout! The Boswell Sisters of New Orleans
, a tribute to the pioneering New Orleans singing group, at the Williams Gallery of the Historical New Orleans Collection, 533 Royal Street. It opened on March 19 and will remain so until October 26. It is free and open to the public every day except Mondays.
The second show is
Keeping Time: Extraordinary Images from Louisiana's Musical Past
at the Old U. S. Mint (Louisiana State Museum), 400 Esplanade Avenue. It will be more than a "representative sampling" of the 15,000 music-related photographs in the museum's collection, for it will also include such treasures as Louis Armstrong's first cornet, Sidney Bechet's soprano saxophone and Fats Domino's pianos, among other things. The exhibition opens on July 30 with a free reception followed by a concert by trio of Joe Krown, Walter "Wolfman" Washington and Russell Batiste, Jr. The exhibit will be on display for a calendar year.
June 7
Outstanding drummer
Jamison Ross
debuted his band "Joyride" at Snug Harbor this evening. Ross, a native of Jacksonville, Florida and a graduate of the jazz program at the University of New Orleans, won the Thelonious Monk International Jazz Drums Competition two years ago and was rewarded with a recording contract with Concord Records. In addition to his own group, Ross can be heard with vocalist Carmen Lundy or pianist Jon Batiste.
June 1
Rumor has it that the long-awaited documentary film about
Buddy Bolden
, titled simply "Bolden," is about to go into production yet again. Bankrolled by multi-millionaire Dan Pritzker of Chicago, it first went into production in 2007, then was put on hold for two years, and is now back on track. Many from the local music community have been involved in the film as consultants or participants over the years. For example, Don Marquis, who wrote the book about Bolden, was a consultant from the very beginning. Wynton Marsalis wrote the film's score. And the cast includes Wendell Pierce, of "Treme" fame. Let's hope that this time will bring it all to fruition.
May 7
The Preservation Resource Center has announced the program for its 14th annual
Ladies in Red Gala
to be held at The Cannery, 3803 Toulouse Street, on June 13. The 2014 Award Honorees are:
Dave Bartholomew, Wendell Brunious, The Jazz & Heritage Festival and Foundation, Inc., Ronnie Kole, The New Leviathan Oriental Foxtrot Orchestra, The Prime Example and Don Vappie
. Music for the patron party will be provided by Sharon Martin and Company and for the gala itself by Shamarr Allen and the Underdawgs. For more info, visit www.prcno.org.
May 4
Happy birthday to
Don Marquis
, who celebrated his eighty-first birthday on the Palm Court Jazz Café this evening. See photos page.
May 2
The seventh annual
SyncUp
music business conference sponsored by the Jazz & Heritage Foundation is always held on the two weekends of JazzFest. Scott Aiges organizes the conference and conducts most of the interviews of speakers. Today's keynote interview was with
Don Was
, president of Blue Note Records. A positive and personable guy and a musician himself, Was is a forward-thinking innovator in the music business. Always on the lookout for young jazz talent, he says, "There is a lot to be said for the nurturing of young musicians." (See photos page.) SyncUp is a free event that helps one stay in tune with current events in virtually all dimensions of the music business.
May 1
A brand new book from LSU Press that should be of interest to many readers of this site is Richard Campanella's
Bourbon Street, A History
. Campanella, a geographer with the Tulane University School of Architecture, is the author of seven books about New Orleans, for which he has won several awards.
April 24
Well, it's that time of year again. The 45th annual
New Orleans Jazz & Heritage Festival
begins tomorrow, Friday, April 25, and continues through the weekend of May 4. Also beginning tomorrow is the seventh annual
Sync Up
music business conference. It takes place every morning of Jazz Fest and is held at the nearby New Orleans Museum of Art.
April 17
Noise associated with music has been a long-standing issue, as I have reported, in the French Quarter, what with the disputes that have resulted from the city's infamous noise ordinance. In today's issue of the online Weekly Beat, Offbeat editor Jan Ramsey addresses the noise issue on Frenchmen Street as well ("Frenchmen Street Brass Band Controversy"). It revolves around a young brass band, the so-called
Young Fellaz Brass Band
, which usually performs at night on the corner occupied by the old Café Brasil. I have seen and heard this group many times, and I can attest to the assertions that they are
very loud
--and, in my opinion, not very musical either. Loud for the sake of loudness, it seems to me. Be that as it may, they draw large crowds of listeners and seemingly make decent money from tips. But it is not merely their loudness that is at issue because, from evidence presented by many business owners in the neighborhood, their behavior is something less than professional. It is said to involve drugs and threats of violence (among other things). Meetings have been held in the neighborhood including residents, business owners and the bandmembers themelves. And there has been no resolution to the problem. Accordingly, as Ramsey asks, where can bands like this perform safely in the city? My first thought was in nearby Washington Park, which seems to have been considered and rejected (for no clear reason). As one who played on street corners at night in my youth (without serious repercussions), I can only agree with those who say that, wherever they play, such bands must be respectful to neighbors and, above all, act in a civilized/​professional manner. (See Photos page for a picture of the band as it appeared one night late last November.)
April 5
Trinity Episcopal Church on Jackson Avenue celebrated its seventeenth annual "Bach Around the Clock," with some 29 consecutive hours of music from Friday, April 4 at 7 pm to midnight, April 5. I enjoyed hearing the
Ignatius Saxophone Quartet
,composed of Loyola University faculty John Reeks (alto saxophone), Tony Dagradi (tenor), Ray Moore (soprano and alto), and Jason Mingledorff (baritone), on Saturday afternoon. They performed a program of Bach and jazz and, as you can tell from their names, they know about the latter (as well as the former). See photos.
March 31
Lionel Ferbos
was missing from his usual gig at the Palm Court Café on Saturday night, but he was back on the bandstand yesterday for the final Nickel-A-Dance session at the Maison at the Maison. A great relief for me and his many friends in the city. (See photo page.)
March 27
April is Jazz Month -- it starts in less than a week! The Jazz Journalists Association calls it
JazzApril
, in support of both Jazz Appreciation Month and International Jazz Day, and invites you to celebrate our music here and now. "Jazz Heroes" will be honored in cities across the country throughout the month. Locally, we will be celebrating legendary jazz musician and educator
Harold Battiste
on International Jazz Day, April 30. (See below.)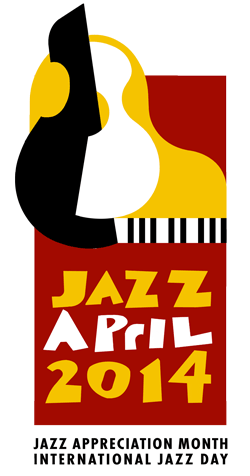 March 23
The
Nickel-A-Dance
session at the Maison this evening featured
Detroit Brooks and his Syncopated Percolators
. In addition to Brooks (banjo and guitar), the band included Gregg Stafford, trumpet, vocals; Lucien Barbarin, trombone, vocals; Roderick Paulin, soprano and tenor saxophones; Steve Pistorius, piano; Mitchell Player, bass; and Walter Harris, drums. A nice group that played an array of trad standards. (See photo page.)
On my way home, I stopped at the Spotted Cat and caught a portion of the performance of the
Pfister Sisters
(Holley Bendtsen, Debbie Davis and Yvette Voelker). This fine vocal group will be featured at the upcoming tribute to New Orleans' own Boswell Sisters at the Historical New Orleans Collection on April 10. As part of that celebration, the HNOC is hosting an exhibition,
Shout, Sister, Shout: The Boswell Sisters of New Orleans
that is now open and will be running through October 26.
March 10
Wednesday, April 30, will mark this year's annual
International Jazz Day
throughout the world, and our city will be celebrating it in several ways. The local chapter of the Jazz Journalists' Association (JJA) will be honoring veteran jazz educator
Harold Battiste
on that day with a ceremony at the
Prime Example
on North Broad Street starting at 8 pm. Music will be provided by the Next Generation band led by Battiste's successor, pianist
Jesse McBride
. McBride and his quintet will also appear at the Louisiana Music Factory at 4 pm that afternoon.
Also on that day the official ribbon cutting and grand re-opening of the historic
Carver Theater
, 2101 Orleans Avenue, will take place. The handsome renovated landmark will also host a variety of activities to celebrate International Jazz Day.
March 3
Tomorrow is
Mardi Gras
and several New Orleans musicians will be celebrating it in Paris. Local jazzers
Evan Christopher, Brian Seeger, David Torkanowsky and Don Vappie
will be entertaining French audiences at three different venues in the city. Pianist Torkanowsky and saxophonist Rick Margitza will be at one club doing "new" New Orleans jazz, while clarinetist Christopher and multi-instrumentalist Vappie will be doing more traditional things at another. Guitarist (andUNO jazz professor) Seeger will be performing with a trio at yet another club. Nice.
February 22
FYI:
Kermit's Speakeasy
on Basin Street, which was to remain open until after Mardi Gras, is now closed for good. He has a gig at the
Little Gem Saloon
downtown tonight, then he goes on the road until the end of the month. He has no gigs lined up in his new place, the old
Mother-in-Law Lounge
on Claiborne Ave., for the foreseeable future.
February 10
Did you know? That the
National Geographic Traveler
named New Orleans as one of its 20 most recommended places to visit
in the world
for 2014. It is just one of only two locations in the U.S. so listed! (The other is Rocky Mountain National Park in Colorado.) The article states that "New Orleans, like Rome, is eternal." This is just the most recent feather in the city's touristic hat...
Also, keep your eye out for
International Jazz Day
, which will be celebrated this year on April 30 (during Jazz Fest). We in the local chapter of the Jazz Journalists' Association have some special plans for a local celebration, so stay tuned.
February 7
With the announcement of its programming, the
French Quarter Festival
(April 10-13) now joins the
New Orleans Jazz and Heritage Festival
(April 25-May 4) as having their spring schedules complete. See www.nojazzfest.com and www.fqfi.org for details.
February 5
The
Louisiana Music Factory
, the city's top record shop, will be moving to its new location on February 8. Check it out a 421 Frenchmen Street (first floor, offices of Offbeat magazine on second floor). (See photos page.)
February 3
The city-wide elections were held on Saturday, February 1. While several were indecisive, requiring runoff elections next month, the mayoral race was most decisive.
Mayor Mitch Landrieu
was re-elected with 64% of the vote meaning that he will be in office for another four years.
January 31
Kermit Ruffins
has decided to close his club, the Treme Speakeasy on Basin Street, after Mardi Gras (March 4 this year). The trumpeter's final performance is scheduled for Sunday, March 2, at 6:00 pm. Ruffins opened the bar and restaurant about two years ago, but he found that the enterprise was taking up an enormous amount of time and losing money. So, if you want to catch him at the Speakeasy on one of his Sunday night appearances, do it soon. (I view this as another example of the challenges for an active musician to be so while trying to manage all the details of a club at the same time. Such endeavors too often end in failure.) Incidentally, if you didn't know, Ruffins recently concluded his long term Thursday night gig at Vaughan's, but he will reopen the old Mother-in Law Lounge on Claiborne Avenue in February with music starting at 7 pm each night. He says his responsibilities at the latter will be much less demanding than at the Speakeasy. (See Photos page for a view of the Speakeasy as it now is.)
January 28
New Orleans native
Victor Goines
, superb reedman, composer and educator, debuted his latest composition, "Crescent City," with Branford Marsalis and the Jazz at Lincoln Center Orchestra at Lincoln Center in NYC last week. Reactions to it have been very positive, so I hope that it will be recorded and available to all of us soon. Goines, who has directed the jazz program at Northwestern University since 2008, is one of my personal favorites on tenor saxophone and clarinet. (An illustration of Goines can be found on the photos page in connection with his November 30 appearance at the Mint.)
I should add that Goines was interviewed by Howard Reich of the Chicago Tribune (January 24) and had some interesting thoughts about working in New York, New Orleans and Chicago. He calls the latter a "mixture" of the other two. He also notes that Chicago "has the same challenges as most cities have: lots of musicians, very few jazz clubs." An unfortunate fact of life these days, I'm afraid. (Thanks to Howard Reich for sending me a copy of the interview.)
January 24
New Orleans native, pianist
Jonathan Batiste
, artistic director at the National Jazz Museum in Harlem, will be awarded the Louis "Satchmo" Armstrong Legacy Award at the Apollo Theater in Harlem on January 31. FYI: see the photos page for a picture of the legendary Apollo Theater today.
January 13
Young Lion trumpeter
John Michael Bradford
, just 16, will be making his debut at Snug Harbor on Thursday, the 16th, with a quintet that includes Kris Royal, alto sax; Jesse McBride, piano; Chris Severin, bass; and Geoff Clapp, drums. Bradford is a rare talent who has already made a name for himself by winning the Seeking Satchmo Trumpet Competition for two consecutive years, performing at Carnegie Hall with the Preservation Hall Jazz Band, touring Japan with ace saxophonist Donald Harrison Jr. and traveling to Cuba as the trumpet player for the Louis Armstrong Jazz Camp. He is heard widely around town in a variety of jazz contexts. See photos page.
January 12
Ace pianist
Tom McDermott
received praise for his latest CD,
Bamboula
, in the current New York Times. The review by Jon Pareles is as follows: "Tom McDermott, a pianist and composer from St. Louis who settled in New Orleans more than 20 years ago, steeped himself in the local lore from the classical compositions of Louis Moreau Gottschalk to the Mardi Gras mambos of Professor Longhair. He also delved further into Latin America — to Argentine tango and to Brazilian choro, a cousin of ragtime — and elsewhere. "Bamboula" (Minky) is a compilation drawn largely from Mr. McDermott's previous albums. The album is named after a Gottschalk melody that gets a tambourine-tapping choro-meets-traditional-jazz treatment; Mr. McDermott also thoroughly revamps two Scott Joplin pieces. But the other 13 ingenious miniatures, played by small groups that often include Evan Christopher on clarinet, are Mr. McDermott's own: compositions that can simultaneously invoke Chopin and habanera or New Orleans slow drag and Parisian bal-musette, complete with accordion. The pianist and songwriter Van Dyke Parks chose the tracks, and they reflect his fondness for nostalgia gone surreal — seemingly antiquarian settings where strange twists and turns occur — and for chromatic rambles that end up making sense. Mr. McDermott's time-warped parlor music turns out to be as wily as it is elegant." Well deserved, Tom!
December 19
The famed Juilliard School and Jazz at Lincoln Center recently announced that
Wynton Marsalis
, JALC Managing & Artistic Director and a Juilliard alumnus, will become Director of Jazz Studies at his alma mater beginning July 1, 2014. This collaboration renews the collaboration between the two organizations, which began when jazz ed was introduced at Juilliard in September, 2001. Interestingly, the first director of that program was another New Orleanian,
Victor Goines
.
December 9
The Palm Court Jazz Café hosted a splendid evening for a packed house in memory of
Julie Amster Fishelson
, who passed away at the age of 89 on October 25. Julie was a generous supporter of countless jazz activities in the city since moving on part-time basis to New Orleans in 1991. Lionel Ferbos and the Palm Court Jazz Band provided the music for the evening.
December 5
Last weekend was a good one for listening to outstanding reedmen. On Saturday, native New Orleanian
Victor Goines
was in town for an interview with Fred Kasten at the Old U. S. Mint. Goines is now a tenured full professor and head of the jazz studies program at Northwestern University in Evanston, IL. (see photo page)
On Sunday, Danish-born, now New Orleans resident
Christian Winther
played a jazz service at the Norwegian Seamen's Church on Prytania Street. He was joined by Chris Severin on bass and Steven Gordon on piano. He played both clarinet and tenor saxophone. (see photo page)
November 26
A rare opportunity occurred this damp and chilly evening at
Snug Harbor
as ace pianist
Tom McDermott
teamed up with ace clarinetist
Evan Christopher
to entertain a packed house with duets of their own compositions and turn-of-the-century music by the likes of Gottschalk, Jelly Roll, James P. Johnson and Bechet. It was an expectably electric performance by two of the city's best. (See photos page.)
November 20
The last in the fall "Jazz at the Sandbar" series at UNO featured famed trumpeter
Randy Brecker
with the fine student septet directed by UNO Jazz Studies chair
Steve Masakowski
. They played a program of all Thelonious Monk music. I had known that Brecker, now 68, and his equally famous brother, the late saxophonist Michael Brecker, had attended the prestigious music school at Indiana University. In chatting briefly with Randy after his first set, I learned that he had left school in 1966, the year I joined the faculty there, while Michael stayed around until 1969. Actually, I had seen both of them perform in the outstanding IU big band led by David Baker. (see photos page)
October 20
One of the new jazz clubs in town is
Prime Example
on North Broad Street in Mid-City. It is a serious jazz club, owned by veteran club owner Julius Kimbrough Sr. I have attended a couple of performances there recently, vocalist
Sharon Martin
on the 10th and trombonist
Delfeayo Marsalis
on the 17th, both very swinging affairs. I would like to alert you to a fine young tenor sax player,
Miles Berry
, just 18-years-old, who played so ably with the Marsalis group. Keep your eye out for him. (See photos page.)
October 12
Trombonist
Wendell Eugene
turned 100 years old today! And he's still playing. Congratulations and many more!
October 4
Percussionist
Bill Summers
gathered scores of the city's top drummers for a "Day of the Drum" celebration at Gasa Gasa on Freret Street, October 4. Summers heads up the Drumanola Project, which aims to unify New Orleans through rhythm and drumming.
September 5
The fourth annual
Jazz in the Park
series of Thursday evening concerts got underway in Armstrong Park today. This is a wonderful series showcasing a variety of top local musicians, and it is always a very popular event. For some of the performances this year, see the Photos page.
August 5
I was just reminded that a 30-minute documentary film about veteran bassist
Peter "Chuck" Badie
was produced by Maurice Martinez to celebrate Chuck's 88th birthday last May. The biodoc is entitled, "Chuck, Shirt, Number 9, A Musical Legend" and is available from Dr. Martinez. He can be reached by telephone at (910) 297-2844. It's worth a viewing.
August 2-4
The 13th annual
Satchmo SummerFest
took place at the old US Mint. This year, for the first time, it was a three-day feast of music and seminars and drew large crowds on each of the three days. I like the venue very much, given the convenience (and comfort) of switching between the two music stages and the A/​C of the scholarly presentations on the third floor of the Mint building. But I was disappointed to hear the rumor of a possible change in venue for next year's festival. The third floor presentations, incidentally, were taped and can be accessed on line at www.musicatthemint.org until the first week of September. For pictures of some of the live music, see the Photos page.
August 1
Good news for
Jack Maheu
fans! A double CD of some of Maheu's best work in the 1970s has recently become available. It is particularly critical since, as many of you may know, Jack's health is fragile and he's in a nursing home in Ithaca, NY. He can use the money.
Copies of the recording can be purchased for $22, including postage. Mail checks or money orders along with your shipping address to: Jack Maheu c/​o Ron Joseph, 7480 Canterbury Hill Road, Rome, N. Y. 13440. (Ron is a close friend of Jack and visits him regularly.)
This is a fine tribute to an outstanding jazz clarinetist.
November 10-11
The fifth annual Treme Creole Gumbo Festival was held in Armstrong Park on the weekend of November 10-11. Brass bands held the spotlight as 10 of them performed in the two-day event: the Pocket Aces, the Lagniappe, the Hot 8, the Soul Rebels, and the Dirty Dozen on the 10th; and the Baby Boys, the Treme, the Free Agents, the Pinettes and the Stooges on the 11th. This may have been the most successful of all the festivals to this point, and a sixth is virtually assured for next year. Sponsorship is largely in the hands of the N. O. Jazz & Heritage Festival and Foundation.

November 1
My wife and I expect to be traveling to Santo Domingo, D.R. in January. It will be our first trip to that city, the oldest in our part of the world. We had initially thought about Rio but eventually decided against that. I am now thinking about going there sometime next summer. It will be merengue first, to be followed (hopefully) by samba, bossa and choro later... I'll keep you posted.

October 18 I attended a most interesting panel discussion as part of the bicentennial celebration of the city's Treme neighborhood (see below) this morning. Held in Armstrong Park's Perseverance Hall, the general topic of the discussion was music, musicians and life in the neighborhood. The panelists were Phil Frazier (Rebirth Brass Band); trumpeter James Andrews; Bruce "Sunpie" Barnes (musician and member of the National Park Service); drummer Shannon Powell; Senegalese-born musician Morikeba Kayoute; and trumpeter Kermit Ruffins served as moderator. The panelists all shared their personal stories about getting into music and, for those to whom it pertained, the role played by the neighborhood in their narratives. While the overall celebration is referred to as "Treme 200", I was most interested by a comment made to me by Powell (50) as we walked away from the session: "When I was a kid we never referred to the area as Treme, it was always simply the Sixth Ward. Treme [which, of course, now has its own television serial] didn't become a common term until 15 years ago or so." In any case, Treme 200 continues with a variety of daily activities through Sunday, October 21.

That evening I went down to Fritzels to hear the fine quartet led by Tom Fischer and took some heat from the management for missing their 43rd anniversary celebration two nights earlier (16th). [Unfortunately, being something of a political junkie, I just could not pass up the second of the presidential debates between President Obama and Governor Romney.] I was told by many who packed the place that evening that the music was outstanding, and there were as many as 8 or 9 guys on the bandstand at one time. That was only the second or third time I've missed a Fritzels anniversary in more than 20 years. The club was again packed for the Fischer performance. The combination of the clarinetist and pianist vocalist Richard Scott is dynamite. While the musicians know better, both deserve far more attention than they seem to be getting from the public.

October 14
Trumpeter Charlie Miller put together a fine band--Tim Laughlin, clarinet; Christian Winther, tenor sax; Lars Edegran, piano; Jesse Boyd, bass; and Sullivan Dabney, drums--for the second in the annual series of Nickel-A-Dance sessions at the Maison on Frenchmen Street.

October 11
A benefit was held at the Irish House on St. Charles Ave. for trumpeter and jazz photographer Sheik Richardson, who suffered two unexpected heart attacks while traveling in Switzerland in August. Many local musicians, including Richardson himself, were on hand for the occasion. Richardson was known for many worthy undertakings, including starting the non-profit Arabi Wrecking Krewe, which helped musicians gut their houses and start repairs after Hurricane Katrina.

October 7
Leroy Jones and his quartet performed a jazz service at the Norwegian Seamen's Church. Norwegian clarinetist and jazz scholar Steinar Saetre, who is in town until December, sat in with the band for a couple of numbers.

October 7
The 18th annual family-friendly (free) jazz dance series, Nickel-A-Dance, resumes at The Maison, 508 Frenchmen Street, with the music of the New Leviathan Oriental Foxtrot Orchestra (4-7:00pm). This will be but the first of four such attractions this year, to be held on successive Sunday afternoons. The bands of Charlie Miller, Don Vappie and, of course, Lionel Ferbos will follow, concluding on October 28.

October 6
This weekend is being devoted to the commemoration of the life and works of the great artist Elizabeth Catlett (1915-2012). The ceremonies began last night with a reception at the Amistad Research Center at Tulane University, where a small collection of her papers and works are housed and were on display. Catlett, a onetime member of the faculty at Dillard University, will be honored there this evening. Undoubtedly her most famous work of art in New Orleans is the great statue of Louis Armstrong in Armstrong Park, and there will be a celebration in that location (actually, Congo Square, on October 7 at 10 a.m. Among those in attendance at last night's reception were two current New Orleans authors, Karen Celestan (whose recent biography of famed jazzman Harold Battiste has been well received) and Freddi Williams Evans (Congo Square, African Roots in New Orleans). See Photos page.

October 5
The New Orleans Multicultural Tourism Network and the Youth Inspirational Connection announced the schedule of events for the Treme 200 Bicentennial Celebration and the 25th Annual Mahalia Jackson Rjoicin' in the Park Festival.The week-long celebration will begin October 17 and go through October 21, featuring lectures, music a gospel jazz mass and tributes to the Rebirth Brass Band and the late "Uncle" Lionel Batiste. For details, see www.treme2012.com.

October 3
The annual "Jazz at the Sandbar" series opens with a performance by Ellis Marsalis (actually, the founder of the series many years ago). He will be followed by weekly Wednesday night performances by top university, local and national talent (including pianist Joanne Brackeen on the 31st). Each performance begins at 7 pm, with an admission fee of $5, at UNO.

This is perhaps a good place to give kudos to drummer Jamison Ross, 24, who has performed many times at the Sandbar while a student in the university's jazz studies program. He was recently the recipient of a prestigious award ($25,000 plus a Concord recording contract) for winning this year's Thelonious Monk International Jazz Drums Competition. Just another indication of the quality of UNO's jazz program.

October 1
I attended the Supper Bowl, the first monthly benefit jam to support healthy eating and the New Orleans Music Clinic and Foundation, a most worthy organization (as you should know from my previous references to it). It was a rainy evening that opened with the Onward Brass Band performing on the porch of the Rock & Bowl on South Carrollton Avenue in Mid-City. That was followed by an inside jam led by the Full Steam Jazz Band from Bern, Switzerland, joined by outstanding locals trumpeter Leroy Jones, trombonist Katja Toivola and trombonist Rick Trolsen . It should be noted that the Swiss band has contributed some $15,000 to the Musicians' Clinic over the last 10 years (and promises more). They were accompanied by 79 Swiss camp followers, which contributed to the success of the evening. We look forward to more such events. For more on that and their planned jam for November 8 at the Ashe Cultural Arts Center, visit their website info@​nomaf.org. (Photos to follow.)

September 27
I attended the second in the series of late afternoon concerts put on by the People United for Armstrong Park (pufap.org). Armstrong Park suffered damage during the recent Hurricane Isaac and, apart from that, is always in need of community support. Hence these concerts. Today, I had the pleasure of hearing (for the first time) the group Africa Brass, an ensemble that combines W. African music and jazz. With singer Dana Gourier, supported by a spectacular 3-man African percussion section and a fine group of New Orleans jazz musicians (like tenor saxophonist Tim Green), it was a memorable opportunity for me. They were followed by the ever popular Stooges Brass Band, one of the busiest of the city's several fine neo-brass bands (as I call them). It's impossible to keep your limbs from undulating to their music. (Photos to be posted later.)

September 26-30
The 20th annual Cutting Edge Music Business Conference will take place again this year. For the second year, the conference will also include the "NOLA Downtown Music and Arts Festival" as part of the scheduled activities. For more of that schedule, see www.cuttingedgenola.com.

September 21
As Jazz at Lincoln Center launches into its 25th year, Wynton is at it again. JALC recently announced the institution's first Digital Advisory Council (DAC), formed to provide insight and guidance on harnessing technology and social media for audience development, digital distribution of performances and educational products, and other institutional imperatives. "We are fortunate," Marsalis says, "to have such a distinguished group of elite digital media thinkers and doers willing to lend their time and expertise to furthering our work bringing people together through swing." For more, check out www.jalc.org.


September 9
The IAJRC meetings came to a successful conclusion last evening. I'll give a summary of what happened when I return from a trip (I leave tomorrow) to St. Louis. In the meantime, check out some pics on the Photos page.

September 6
The U. S. Department of Energy has praised the Entergy Corporation for its response to Hurricane Isaac. "The typical benchmark for utility companies is to restore power to 70 percent of customers within five to seven days. The pace of Entergy's restoration, restoring power to 90 % of its customers in four to five days is unbelievable," said deputy assistant secretary for infrastructure secuity and energy restoration. "This is one of the best restorations we've seen in recent memory and Entergy should be commended," Bryan added.

Well, I guess that should quiet those of us who have been complaining about the time it took Entergy to restore power to the city and suburbs--most notably President John Young of suburban Jefferson Parish.


September 5
The International Association of Jazz Record Collectors will be having their 49th annual meeting at the Astor Crowne Plaza Hotel on Canal Street starting tomorrow. It will continue through Saturday, the 8th. Speakers will include Lars Edegran, Charlie Suhor, Bruce Raeburn, among others. As a longtime member of the organization and contributor to their quarterly journal, I intend to be there. It should be another interesting event.

September 4
Hurricane Isaac has passed, but he left several reminders of his visit. We lost power for 4 days in our neighborhood, and I gather that about 10% of the city is still without it. We had a couple of windows blown out in our apartment and a fair bit of water damage, but nothing than can't be overcome. See pics on Photos page.

August 27
The city anxiously awaits the arrival of Hurricane Isaac, expected on the seventh anniversary of Hurrican Katrina (the day after tomorrow). Yet no one expects it to be as destructive as the latter. We'll see. Hurricanes can be quite unpredictable.

Meanwhile, 101-year-old trumpeter Lionel Ferbos was to have appeared with his band for a concert at the Norwegian Seamen's Church yesterday afternoon. Unfortunately, his daughter called at the last minute to say that he would be unable to make it for health reasons. A preliminary rumor indicated that he was having difficulty moving the first two fingers on his right hand. When the precise reason is known, I will report it. In the meantime, our thoughts are clearly with him. [P.S. Al Kennedy visited Lionel on Monday evening and reported that his back, shoulders, and right arm "hurt." "And his right index finger was locking up...and wouldn't release." Kennedy spoke to him on the afternoon of the 27th, and "he said he felt much better." Good news, and thanks to Al for the information.]

Nevertheless, the concert went on as scheduled with a band that included Jamie Wight, cornet and vocals; Evan Christopher, reeds; Otis Bazoon,reeds; Lars Edegran, piano; Jesse Boyd, bass; and Walter Harris, drums. It was a fine performance, more than worthy of Mr. Lionel. See Photos page for a picture of the band in action.

August 24
I had the distinct pleasure of attending the first CD release performance of pianist/​composer/​arranger Matt Lemmler and his New Orleans Jazz Revival Band's new album Ubuntu. (I'll not take time/​space here to try to explain the meaning of this native South African word other than to say that it has clear humane and spiritual implications.) The venue was the splendid year-old performance space, Cafe Istanbul, in the Healing Center, 2372 St. Claude Avenue in the Marigny neighborhood.

You may remember my brief discussion of a concert by a variation of this ensemble at Loyola back in June. I have to say that tonight's music (largely taken from the new CD) was quite different from that of the earlier performance. It was very moving and exciting nevertheless. This evening's band included a dozen of the city's top musicians,including: John Ellis, Rex Gregory and Ray Moore, reeds; Bobby Campo and Ashlin Parker, trumpets; John Mahoney,trombone; Steve Masakowski, guitars; David Pulphus, bass; the joyously driving Brian Blade, drums; Bill Summers, percussion; Evan Christopher, clarinet (one number); Kim Prevost, vocals; and, of course, Lemmler, piano and vocals. An outstanding group, clearly, but I have to give special kudos to Blade (who travels with his own band and no longer lives in the city). Prevost also deserves note for her singing. She is absolutely first-rate. See Photos page for a few pics from the concert.

As for Ubuntu, I can only say that is a movingly spiritual experience performed by a top of the line group of jazz musicians. I recommend it highly as a fine example of some of the new music being created in our city. For more, check out www.mattlemmler.com.

August 18
A group known as People United for Armstrong Park held an official opening in Perseverance Hall in the Jazz National Historic Park today. They announced the initiation of a musical program known as "Fall 2012 Jazz in the Park," which will begin on Thursday, September 20 and will be held each Thursday through November 1.
Artists who will be peforming at these concerts include vocalist Stephanie Jordan, trombonist Corey Henry, vocalist John Boutte, trumpeter Leroy Jones, and Los Hombres Calientes with Bill Summers and Irvin Mayfield. Sounds great! Stay tuned.

August 14
A New Orleans musical landmark will soon be back in business, it seems. The late Ernie K-Does' Mother-in-Law Lounge, 1500 N. Claiborne in the Upper Ninth Ward, had essentially closed with the death of K-Doe, despite serious efforts by his late wife Antoinette and her daughter Betty Fox. The result was that the club closed for good in December, 2010. But the City Planning Commission just gave trumpeter Kermit Ruffins permission to re-open the lounge today. The word is that the venue will re-open soon. We'll see...

August 8
The following from trombonist Dave Sager, who both spoke and played at SatchFest last weekend:
Thank you, all of you who have either pledged some amount or have spread the word about my project to put on a classic jazz concert featuring pianist James Dapogny along with an all-star lineup of great DC area musicians, PLUS cornetist Randy Reinhart from the New York area. We have just one week to go to make the final goal of $4000. At present, we are $5 short of $2000.

Some folks have been especially kind and have either sent $$s directly to me or have offered to. But that is not the way Kickstarter works. You simply pledge the amount you are willing to pay and if the project reaches its goal, then you send Lickstarter the amount pledged. You must register with Kickstarter in order to to do this. As you will see, there are premiums offered with various levels of support. In a way, this is like purchasing advance tickets.

To check out the project, please go to http:/​/​www.kickstarter.com/​projects/​925634297/​concert-with-james-dapogny-and-his-east-coast-chic?ref=live and click on the button that
August 3-5
The 12th annual Satchmo SummerFest was again a success, despite the heat and the occasional rain drops. Many old and familiar faces were back in town for the tribute to the great New Orleans native: George Avakian, Dan Morgenstern, Ricky Riccardi, Michael Cogswell, and Yoshio and Keiko Toyama, to name just a few. (For the full program, google "Satchmo SummerFest" or visit www.fqfi.org.) See the photos page for a selection of pics from the festival.

July 18
The Palm Court Jazz Cafe was packed to standing room only last night with the celebration of trumpeter/​vocalist Lionel Ferbos's 101st birthday! Ferbos was mobbed by adoring fans and, always the gentleman, he returned their love with a smile and a handshake (if possible). He was accompanied by his usual band these days: Lars Edegran, piano; Seva Venet, banjo; Brian O'Connell, clarinet; Jamie Wight, cornet; Ronnell Johnson, trombone; Chuck Badie, bass; and Corey Walters, drums. It was a splendid evening, and hostess Nina Buck laid on red beans and rice for everyone in the houase. Be sure to make reservations for his 102nd next year, same time and same place!

July 15
Venerable trumpeter/​vocalist Lionel Ferbos and his Louisiana Shakers played a free concert this afternoon (2-4 pm) at the World War II Museum on Magazine Street. Unfortunately, the weather was horrible (heavy rains), so I missed it. But I guarantee you that I will not miss his 101st (!) birthday celebration on Tuesday July 17 at the Palm Court Jazz Cafe. The P. C. is normally closed at this time of year, but it will be open specially for the sold-out crowd that is expected to be on hand. More about that on Wednesday.

P.S. For those wishing to acknowledge Lionel's birthday by sending him a card, his
address is Lionel Ferbos Sr., 5543 Press Drive, New Orleans, LA 70126. I can assure you that he will appreciate your thought.

July 5
Friends and admirers of the inimitable Uncle Lionel Batiste will want to know that he is seriously ill. You can help by purchasing the Treme Bicentennial Poster on which Lionel is portrayed. The poster sells for $35, and $10 from each sale will go to his medical fund. For more about this, check out www.treme2012.com.
Uncle Lionel passed away on July 12. See my Comings and Goings page.

July 2
A wonderful new jazz venue opened tonight on Bourbon Street with the music of Leroy Jones' Quintet at the Funky Pirate, 727 Bourbon. It's the same place where Big Al Carson and his band belted out the blues for years. But, starting tonight, the club will feature jazz every Monday night plus Chef Charlie Simms' BBQ chicken and red beans. In short, it's sort of an amalgam of the F. P. with the late, lamented Donna's Bar & Grill on Rampart Street. This deserves your attention! For more, contact Leroy's wife Katja Toivola at KatjaToivola@​gmail.com.

June 24
I had the pleasure last night of attending a concert at Loyola's Nunemaker Hall of pianist Matt Lemmler and his New Orleans Jazz Revival Ensemble. It is a unique group composed of Lemmler on piano and vocals; Steve Masakowski, guitar (and banjo, the first time I've ever witnessed that); James Singleton, bass; John Mahoney, trombone; and Geoff Clapp, guitar. An outstanding assemblage of local professionals, playing a most interesting program of standards and originals...in a totally unexpected way.

Lemmler, 45, grew up in the Ninth Ward and graduated in music from Loyola, where he studied with Mahoney, among others. He then went on to get a master's degree in jazz performance and composition at The Manhattan School of Music. He stayed in NYC for a couple of years, then decided to return to his hometown in 1994, where I first heard him perform with Tim Laughlin. He then toured nationally with the "Phantom of the Opera" show for four years. Then back home again, teaching at both Loyola and UNO, where he was about to replace Ellis Marsalis as assistant professor of jazz piano, when Katrina struck. He was displaced to Houson, where he remained until returning home in 2010, where he soon formed his Jazz Revival Ensemble. Lemmler is a very creative spirit whose approach to New Orleans music of all genres deserves your serious attention. He has a new CD just out, UBUNTU, featuring some of New Orleans finest musicians, which I have yet to hear. See also Photos page.

June 18
I'm pleased to offer some final data about this year's Traditional Jazz Camp (see below), kindly provided by Banu Gibson. This was the third and largest camp ever, with a total of 103 student campers (including 11 scholarship students) from 14 states in the U.S. (California was the largest representative with 14) and 7 foreign countries (Argentina, Canada, Finland, Germany, the Netherlands, Scotland and the U.K.).

Banu goes on to report that she and her colleagues Leslie Cooper and Nita Hemeter are
presently considering expanding next year to two camps. Calling the energy at this year's camp "electric," she goes on to say, "Our future plans are to reasonably grow the camp to keep workshops for our scholarship students through the year and find sponsorships that will let us grow."

From my brief exposure to the camp, I can certainly confirm the energy of all involved.
Banu, her faculty and staff deserve kudos for their splendid efforts on behalf of traditional New Orleans jazz. See Photos page, and keep up with plans for future camps at their website (a link to which is at the right side of this page).

June 16
Drummer Tony "Oulaboula" Bazley and his quartet were featured in the Mint's Saturday afternoon concert series. Joining Bazley were Roderick Paulin on tenor saxophone; Richard Knox, piano; and bassist Rusty Gilder. In sum, a fine group that played a diverse program ranging from Coleman Hawkins to Sonny Rollins and Charles Lloyd. Bazley, 75 and a New Orleans native, spent a good bit of his jazz life working elsewhere with some big names in modern jazz (e.g. Eric Dolphy, Wes Montgomery, Dexter Gordon). But he moved back to his hometown before Katrina. Gilder, who now lives in Lafayette, LA, has also worked with the likes of Gerry Mulligan. In short, this was an excellent presentation of modern jazz.


June 10
The third annual New Orleans Traditional Jazz Camp opened with its customary "Meet & Greet" in the Grand Ballroom of its headquarters, the Bourbon Orleans Hotel in the French Quarter. After an opening greeting by executive director Banu Gibson, the camp's faculty was on hand to provide an all-star musical introduction for students and guests. The camp has a full schedule of daily instruction planned for the week June 11-15 culminating with a public concert on June 15. After the opening session, everyone migrated to the lovely home of Tim Laughlin on nearby Royal Street for a student-faculty jam session. (Though not a member of the faculty, Laughlin is an ex-officio "camp follower.")

I've had the pleasure of watching this gathering of talented adult "students" grow from the very beginning and have been extremely impressed with the growth in the number and geographical distribution of the participants, who now are 100 or more, from year to year. For more about the camp, see their website www.neworleanstradjazzcamp.com. (See also the Photos page.)

June 7
I had the pleasure of catching the first set and a bit of the second set of bassist Tom
Saunders and his Tomcats, a fine group of musicians playing big band music of the late '20s and early '30s--something that one will rarely hear around here. The 11-piece unit consisted of Steve Giaratano, Ray Moore and Jason Mingledorf, reeds; Charlie Fardella and Dave Boswell, trumpets; Charlie Halloran, trombone; Tom Hook, piano; Chris Edmonds, banjo, guitar; Matt Rhody, violin; Gene Black, drums; and Saunders, tuba and string bass. (See Photos page.) The program was augmented by the vocal stylings of Marla Dixon. This is an outstanding group that is not heard often enough and clearly deserves to be recorded.

June 6
The following from clarinetist Tim Laughlin, who has recently had a regular gig in the lobby bar at the posh Windsor Court Hotel:

"Starting this Saturday (6/​9), David Boeddinghaus and I will be adding Bryan Barberot on drums and will be performing upstairs for the "Summer Jazz Supper" at the Grill Room and Polo Club Lounge in The Windsor Court. The Grill Room is New Orleans only 4 Star/​4 Diamond restaurant.

The Polo Club Lounge also feature a fabulous menu along with specialty cocktails. We 'll perform from 6 to 9pm. Come join us for cocktails and dinner every Saturday. I've included a link to give you more information. Let's have a great summer."


June 3
Clarinetist Louis Ford and his trio performed in this month's jazz service at the Norwegian Seamen's Church. (See Photos page.) Ford, who was joined on this gig by pianist Michael Torregano and bassist Dewey Sampson, has a new CD out, "Louis Ford and his New Orleans Flairs: Vintage Jazz." It features, in addition to a variety of New Orleans musicians on many trad standards, the voices of Wanda Rouzan and a gospel choir. For more, check out Louis's website: www.FordMusicProductions.com.

Armstrong the Vote!
Vote to Preserve Louis's Garden
@​ Louis Armstrong House Museum
Daily thru May 21st

The Louis Armstrong House Museum is one of 40 NYC cultural organizations in the American Express www.PartnersInPreservation.com grant contest competing for preservation funds to restore Louis's garden. We are reaching out to the jazz community worldwide to Armstrong the Vote for us! We have a chance to win $250G either by earning the most votes online daily through May 21st or via committee. Hopefully we can count on your support to spread the word to vote daily through Monday, May 21st to support us!

As an added treat, we have been posting rare and never-before-seen pictures of Louis on our Facebook page at 4pm each day to give a 'lil back to our voters!

May 19
I had the pleasure of checking out this evening's premier performance of the new Banu Gibson Quartet at the elegant Bombay Club on Conti Street in the French Quarter. Banu (vocals, guitar) was joined by her longtime musical director David Boeddinghaus (piano), the great James Singleton (bass) and the talented young reedman Rex Gregory (clarinet and slto saxophone). They performed a tasteful sampling of the Great American Song Book in an, as always, tasteful manner. The same group will be back at the same venue on Friday evening, May 25. Catch them if you can. See Photos page as well.

May 18
My wife and I attended Tommye Myrick's splendid stage production of the legendary "Lady Day at Emerson's Bar and Grill." It was an absolutely outstanding performance by Sharon Martin as Billie Holiday. I knew she was a wonderful singer, but I had no idea that she had these terrific acting skills, too. The outdoor setting at the JuJu Bag Cafe, 5363 Franklin Avenue, was superb for the production as well. There will be another performance (they're all been sold out so far) on Saturday night at 8 pm, May 19, then one night a week starting next weekend. This cast should go national IMO. I'll keep you posted. In the meantime, check out the Photos page.

May 12
Jazzfest attendance this year has been estimated at 450,000 for the 7-day event. It is said to be the highest since 2003.

May 9
The whole of Jazzfest is now history. The weather was great (sunny and warm) and, I am told, the crowds were large and enthusiastic. More details on attendance and the like as they become available. Here are some of the thoughts of Jan Ramsey, the publisher of OffBeat magazine:

"I don't know what the latest demographics of the festival are (they're never made known to anyone but sponsors), but based on observation, it seems to me that your 45 to 54 age group are probably the demo that the festival is going after, based on its booking policies (Tom Petty, Bruce Springsteen, the Eagles) with the 55+ demo being almost as large. This latter group are the hard-core Jazz Festers who literally have made the event what it is today, in terms of growth, size and music orientation. It is the demo of the original producers, Quint Davis and his mentor, George Wein, after all.

"It's also significant to note that these two demographics, particularly the older one, are the people who have the money it takes to attend an event that has a $50 to $60 ticket, plus the disposable income to travel to New Orleans, stay in a hotel, buy the expensive food and artwork that the festival presents to the public, and blow some more dough eating in local restaurants and shopping in local retail stores."

It's all about the bread, which of course shocks me... I could say more, but I won't.

May 1
The first weekend of Jazzfest is now history, and I also missed that. The big hit of the weekend was, of course, Bruce Springsteen on Sunday. But a surprise hit--not to me, I hasten to add-- on Friday was the wonderful local vocalist Stephanie Jordan and her big band. She's an absolutely first-class talent that has only begun to be recognized on the national stage in the last few years. Jordan was joined by her "little brother," trumpeter Marlon, and her violinist sister,Rachel, as well. As you doubtless know those three are the children of ace saxophonist and jazz educator, Edward "Kidd" Jordan. If you don't know about Stephanie, check her out on Google. She's something else.

April 30
Just a reminder: Today (4/​30) is INTERNATIONAL JAZZ DAY. So, pay your respects, and try to catch some live jazz. (For local activities, see below.)

April 25
I took in another of the weekly Sandbar series of concerts in the Cove at the University of New Orleans last night. It was a particularly enjoyable experience. Number one, I had a chance to hear the UNO Traditional Jazz Ensemble under the direction of Matt Perrine for the first time. A nice young group that is coming along well. I was especially impressed with the assertiveness of the young lady trumpeter, Cadie Rodgers from California, and the 20-year-old drummer Walter "James" Lundy. The second group I had heard before. They are more veteran--and very talented--young people playing gypsy jazz in tribute to Django. It was good to see violinist Neti Vann whom I hadn't seen or heard for some time. She explained that that was due to the fact that she had been a student. Between those two performances was the annual Swenson award to the student who created the year's best jazz composition. This year it was the excellent bassist Barry Stephenson, 25, who is receiving his Masters degree in jazz studies this year (he was a Florida State undergrad). His composition was called "Louisiana Jones" (in the Temple of Swing). He has a very bright future, in my opinion.

The featured guest for the evening was Banu Gibson, who sang two numbers with each group. It's always good to hear her, and it is especially good to know that UNO is paying serious attention to "the tradition." Speaking of which, please note that Banu's third annual trad jazz camp will be taking place here again in June. (See link at right.) See Photos page for pictures from the evening.

April 24
Offbeat magazine's annual Jazz Fest Bible is now out, so that means that the Fest itself can not be far behind. Indeed, it all begins on Friday, April 27, and runs through that weekend.
It then resumes on Thursday, May 3 and concludes on Sunday, May 6. For details, see the J&HF link at the right. This will probably be the first year in my last 20 that I will not attend the festival.

April 23
UK reedman Sammy Rimington has been in town for the spring festival season, during which time he as been living in the guesthouse at the Norwegian Seamen's Church. So, the church
seized upon the opportunity to get him to perform at a jazz service yesterday. Along with him for the performance were Lars Edegran, piano; Larry Scala, guitar; and Jesse Boyd, bass. Riminington may be the top living exponent of the George Lewis style of clarinet-playing, to say nothing of his fine alto sax work in the spirit of the late Captain John Handy. See Photos page.

April 17
Today's Times-Picayune reports: "In a jump of nearly 8 percent from last year's record-setting crowd, about 574,000 fun-seekers converged on the Vieux Carre during the weekend to boogie, feast and enjoy postcard-perfect weather during the festival's four-day run." Festival director Marci Schramm explained how attendance was determined since it was a free, non-ticketed event. "Fess Security, which provided security for the festival, did counts at entry and exit points of major stages," the T-P reports, "and, following a method it has used since 2004, adjusted them down to allow for repeat entrances and exits. The figure did not include attendance at music stages on Royal, Bourbon, Chartres and Decatur streets, as well as the French Market, and such events as Dancing at Dusk and a concert in St. Louis Cathedral. To allow for turnouts there, 'we add a little bit back in,' she said."

April 14-15
I caught the last two days of the French Quarter Festival. It was a four-day event for the first time this year, with 20 stages of music. It was undoubtedly the largest FQF ever. Trumpeter Leroy Jones, who has played every year since the beginning (1984), said, "This is the biggest I've seen it." Drawing music fans from all over the world, it is no longer the intimate occasion largely for locals that it once was.

The 16th annual New Orleans International Music Colloquium was again held this year--but, for the first time, not in direct conjunction with the festival. It included two days of lectures and discussion focusing on the theme: "1803-2005: 202 Years of Brass Bands." It is expected that a volume will ultimately result from this (and an earlier) meeting devoted to brass band music in New Orleans. The colloquium was held in a meeting room at the Old Absinthe House on Bourbon Street.

April 11
Bethany Bultman, president and director of the New Orleans Musicians' Assistance Foundation and Musicians' Clinic, hosted a benefit today for those most worthy organizations. A large crowd turned out to show support and listen to the music of a fine band composed of Lars Edegran, guitar; Kerry Lewis, bass; Seva Venet, guitar; Otis Bazoon, tenor saxophone; and Tom Sancton, clarinet. Barbara Shorts was also on hand to provide the vocals. For more about NOMAF and the Musicians' Clinic, see their websites: www.nomaf.org and www.neworleansmusiciansclinic.org. See Photos page.

April 9-May 1
Spring jazz events in the Cove at UNO include the following:
The first (to my knowledge) series of Monday Night Jazz Sessions with top UNO student bands: bassist Barry Stephenson's Pocket (April 9), saxophonist Oiver Bonie Quartet (April 16) and bassist Jasen Weaver and the Session (April 30).
The Jazz at the Sandbar series resumes on Tuesday nights with trumpeter Maurice Brown (April 10), trombonist Big Sam Williams (April 17), singer Banu Gibson (April 24) and guitarist Mike Moreno (May 1).

UNESCO Proclaims April 30 as International Jazz Day
International Jazz Day, designated by the United Nations Educational, Scientific and Cultural Organization (UNESCO) as April 30 each year, will have its official kick-off at UNESCO headquarters in Paris on April 27, 2012. The UNESCO celebration, organized in cooperation with UNESCO Goodwill Ambassador and Thelonius Monk Institute Chairman Herbie Hancock, will set the stage for a series of events to take place around the globe on April 30. The day will bring together performers, educators, governments, cultural organizations, schools, libraries and fans, as they explore together the history, meaning, impact and legacy of jazz music throughout the world.

N.B. Hancock will be in New Orleans on April 30 to present a concert by our own Terence Blanchard, Ellis Marsalis, Kermit Ruffins, Dr. Michael White, and the Treme Brass Band. Later in the day, Hancock will be in NYC for a concert at the UN General Assembly.

For further information, please visit the UNESCO website.

If you happen to be in New York after Jazzfest, you should be aware that Jazz at Lincoln Center will have a New Orleans Celebration featuring the music of Jelly Roll Morton in the Rose Theater. New Orleans pianists Jonathan Batiste, Henry Butler and Ellis Marsalis will be featured pianists. For more, check out www.jalc.org.

March 31-April 1
It was the weekend for the annual Old Algiers River Fest, and this year's music lineup was probably the most impressive I've seen. I was able to attend only a fraction of Saturday's program: Shannon Powell and his Traditional Jazz All-Stars, Delfeayo Marsalis and his Uptown Jazz Orchestra (15 guys who played without charts!), and the talented young vocalist Sasha Masakowski, who was backed by a quartet led by her father, ace guitarist Steve Masakowski. (This young lady--ca. 24--is a bigtime star in the making.) So, what I had an opportunity to see was excellent. I wish I could have seen more. For the full program, see the fest's website: www.oldalgiersriverfest.com. See also the Pictures page here for some pics from the fest.

On Sunday, April 1, there was the usual monthly jazz service at the Norwegian Seamen's Church on Prytania St., Uptown. It featured an absolutely outstanding trio led by Danish-born New Orleanian tenor saxophonist-clarinetist Christian Winther. Winther was joined by
Peter Harris, bass, and Don Vappie, guitar. These guys gave a terrific performance.
Winther, in my view, plays tenor like it should be played--and his clarinet-playing is first-rate as well. See the Photos page for a pic of the group after their performance.

March 13
I had the pleasure of hearing saxophonist Tony Dagradi perform with the fine UNO Jazz
Ambassadors, directed by Brian Seeger, in this season's second Sandbar concert at UNO this evening. Dagradi is professor of saxophone and jazz studies at Loyola University here--and, of course, the founder of the excellent group Astral Project. See Photos page.

March 6
This was the opening night of this year's Sandbar series at UNO and, since the city is celebrating its second annual "Brazilian Week," the featured soloist tonight was Brazilian trumpet giant Claudio Roditi. Roditi, 65, performed with a band led by percussionist Ricky Sebastian (the two of them played together in Herbie Mann's band some 15 years ago) and a group of fine UNO jazz students. An all Latin program that was absolutely wonderful, possibly the best I've ever heard in this annual series. See Photos page for a pic.

March 4
The spring Nickel-A-Dance series is now underway. The first of four Sunday performances was by Gerald French and the Original Tuxedo Jazz Band. Gerald, incidentally, has recently taken over for his uncle Bob as leader of the group, which yesterday included: Mark Braud, trumpet; Tom Fischer, reed; Lucien Barbarin, trombone; Larry Sieberth, piano; Detroit Brooks, banjo/​guitar; Richard Moten, bass; French, drums--and special guest vocalist Yolanda Windsay (Topsy Chapman's daughter). Obviously, a first-rate ensemble.

Ace violinist Matt Rhody's Trio played the monthly jazz service at the Norwegian Seamen's Church. See Photos page for selected pics of today's activities.

March 2
It was a very pleasant doubleheader for me yesterday.
First off, there was an appearance by the great bassist Rufus Reid at the Old US Mint in the afternoon. Reid has been in the neighborhood for four days: two days in Baton Rouge for the premiere of his new composition "Quiet Pride" with a 24-piece orchestra at LSU's Shaw Center. (For more about that, see his website, www.rufusreid.com.) Then he came here for a solo performance and a Q&A session before a large and captive audience. His playing on such standards as "Sophisticated Lady" and "Sweet Lorraine" was wonderful. He's a remarkably talented man. Reid noted that his new composition was inspired by the sculpture of Elizabeth Catlett (the artist who created the statue of Louis Armstrong in Armstrong Park 40 years ago. He called Catlett, about to turn 97 next month, "a national treasure." Reid was scheduled to make an appearance and perform with students today at the New Orleans Center for the Creative Arts (NOCCA).

Then in the evening I had the pleasure of attending the first of a two-night live recording session by ace pianist Tom McDermott and the talented and vivacious Meschiya Lake at Chickie Wah Wah on Canal Street (between Broad and Jeff Davis), where the duo performs every Wednesday night. McDermott is a longtime favorite of mine, and Lake is fast becoming my favorite local female voice. She's not your typical jazz singer since the South Dakota native has country roots, but she's also wonderfully able to do gospel, Bessie Smith and Billie Holliday. A coming star, in my opinion.

See the Photos page for pics of the two events above.

February 25
The Louisiana Music Factory (see link at right) celebrated its 20th birthday this afternoon before a packed house with a full schedule of performances by: Kermit Ruffins, John Boutte, the Stooges Brass Band, Cyril Neville, and the Preservation Hall Jazz Band. It was a terrific occasion befitting the city's--maybe even the nation's--top record shop for Louisiana music. The Hall sent its "A team" today, featuring Mark Braud, trumpet, vocals; Freddie Lonzo, trombone; Charlie Gabriel, clarinet, vocals; Ben Jaffe, sousaphone, leader; Ricky Monie, piano; and Joe Lastie, drums. See Photos page for a few pics from the event.

February 21
Happy Mardi Gras!

It's Fat Tuesday today, thus bringing to a close Carnival season for 2012. For those of us who live in certain parts of Uptown, we can now move freely once again throughout the city...without being obstructed by blocked streets due to parades. One thing I noticed this year was that it seemed people were staking out their positions (without being on hand themselves) along the parade routes on Napoleon and St. Charles Avenues with tarps, plastic sheeting and the like. It's my impression that this was happening more so than in the past.

The weather for Carnival season was, generally speaking, cooperative. The one bad day that we had was on Saturday, February 18, when it rained heavily causing the postponement of several parades. (Those parades were held the following day, resulting in some chaos in our neighborhood.) The rain also made it impossible for my wife and me to make it to the annual party held by Andrea and Gorst DuPlessis in the Quarter. (I think that's the first time that I missed that wonderful event in the years that I have lived here.) It went on nevertheless, and I attach a photo of the band that performed--courtesy of John Titsworth. Congratulations once again to Andrea and Gorst for their hospitality and friendship. I have to say it: Carnival is a great time for children of all ages.

February14
Well, the city had one winner in the Grammy awards last Sunday night: the Rebirth Brass Band, for their recording "Rebirth of New Orleans." Congrats to Phil Frazier and the rest of the
guys for their accomplishment.

February 11
Uncle Lionel Batiste celebrated his 80th birthday with a party at Sweet Lorraine's, 1931 St. Claude Avenue this evening.

February 9
Trumpeter Leroy Jones and his quintet were at the Palm Court Cafe this evening for a party celebrating the release of his new single, a spirited reworking of Professor Longhair's 1946 Mardi Gras classic "Go to the Mardi Gras." The CD is available for $5 and probably can be ordered by contacting so2001no@​yahoo.com. Check it out! See Photos page. CORRECTION. THE SINGLE CAN NOW BE PURCHASED FOR JUST $O.99 BY GOING TO THE FOLLOWING LINKS:

http:/​/​itunes.apple.com/​us/​album/​go-to-the-mardi-gras-single/​id500306004
http:/​/​www.cdbaby.com/​cd/​leroyjones8
http:/​/​www.amazon.com/​Go-to-the-Mardi-Gras/​dp/​B0075HNL84/​ref=sr_1_1?s=music&ie=UTF8&qid=1328716677&sr=1-1

January 26
I had a very pleasant evening last night squeezing two major events into the agenda. First, I had an opportunity to visit for the first time the newly renovated Joy Theater, 1200 Canal Street (corner of Canal and Loyola). The developers have made the old theater site a truly spectacular performance venue. See their website www.joytheater.com.

The occasion for the visit was OffBeat's 2011 Best of the Beat Music Business Awards, an annual event that brings a host of people from the local music business together for the evening. It featured an awards ceremony presided over by OffBeat publisher Jan Ramsey, the principal one of which was the Lifetime Achievement in Music award which went to the veteran George Porter Jr.. Other award recipients were Scott Billington of Rounder Records (Lifetime Achievement in Music Business); and John Rankin of Loyola University (Lifetime Achievement in Music Education).

I cut out of there a bit early to try to catch some of the concert, Becoming American, The Musical Journey, at venerable St. Louis Cathedral on Jackson Square. It featured the wonderful Louisiana Philharmonic Orchestra and a bevy of talented vocal and instrumental soloists. I went especially to hear pianist James Dapogny, who was scheduled to perform one of Jelly Roll Morton's great big band tunes, "GanJam." Unfortunately, I missed it, but was relieved to learn that the the whole program--which was performed before a huge SRO audience--is supposed to be available by webcast on the LPO website, www.LPOmusic.com. As of February 2, I viewed the whole two-hour concert on line, and I warmly recommend it. This performance of GanJam was only the second time I had heard it, and I have to say that I prefer the one that Don Vappie and his band did some years ago. Yet it's a very interesting composition and worth hearing, if you haven't already done so.

See Photos page for some views from the evening.

January 7, 2012
Connie Jones put together an excellent band for a concert at the Old Mint this afternoon. Joining him were Mike Genevay,trombone; Tim Laughlin, clarinet; Otis Bazoon, tenor saxophone; Steve Pistorius, piano; Richard Moten, bass; and Bryan Barberot, drums. They played in a style that brought to mind the old Bob Crosby Bobcats, one of Connie's favorite bands. Rumor has it that Mr. Jones will be awarded an honorary doctorate by Loyola University in the spring. It couldn't happen to a more deserving local musician.

The occasion also provided an opportunity for me to make my first visit to the Preservation Hall exhibit on the renovated third floor of the Lousiaiana State Museum (Old Mint) [$5 admission fee]. It tells the Hall's story in an interesting and attractive fashion, with a combination of artifacts, videos, photographs and explanatory narrative. Well worth a visit.

Speaking of Preservation Hall, Tom Sancton has an excellent article on the Hall ("Hall That Jazz") in the January 2012 issue of Vanity Fair. It is available online at www.vanityfair.com/​culture/​2012/​01/​preservation-hall.

HAPPY NEW YEAR!!

December 23
Wynton Marsalis Named Cultural Correspondent for CBS.
In this role, Wynton will provide insight into a broad range of cultural and educational developments on CBS THIS MORNING and CBS SUNDAY MORNING. His first CBS News appearance will be on Monday, January 16, 2012, as the nation observes Dr. Martin Luther King, Jr.'s birthday. (For more, visit info@​wyntonmarsalis.org.

December 8
I attended the concert by Nicholas Payton and his trio (Vincente Archer, bass, and Marcus Gilmore, drums) at Tulane University's Dixon Hall this evening. Payton, the 2011-12 Jazz Artist-in-Residence at Tulane, has developed (at least for me) quite a new sound. He's singing now and playing the keyboards as much as the trumpet. I have to say that the music has a minimalist New Age quality to it that is not unpleasant but includes much less jazz trumpet than in the past.

Also on the program was Tulane's student jazz quintet directed by veteran bassist Jim Markham and the student big band under the direction of young Jesse McBride. Just another indication of the lively jazz education scene in this city.

December 4
Trumpeter-vocalist Wendell Brunious led a fine trio in a jazz service at the Norwegian Seamen's Church this morning. Joining Wendell was his son, Brandon, 28, on bass and pianist Tom Hook. See the Photos page for a picture of the group after the service.

December 3
Deano Assunto, son of trumpeter Frank Assunto, co-founder of the original Dukes of Dixieland, celebrated his 53rd birthday this evening with a large gathering of friends in Metairie. The party also celebrated the favorable settlement of long-standing litigation regarding royalties and other issues with the present management of the Dukes. Incidentally, Deano's late uncle trombonist Freddie Assunto would have been 82 on the preceding day. For a picture of some of the guests at the party, see the Photos page.

December 2
I spent a pleasant evening last night catching up a bit on the local club scene. The first stop was an historic occasion since Vaughan's Lounge in the Upper Ninth Ward/​Bywater was celebrating its 30th anniversary! As usual, Kermit Ruffins and his group provided the Thursday night musical fare
--for his 18th year, no less--before a packed house. Kermit, who will be turning 47 later this month, was joined by regulars Richard Knox, keyboard; Kevin Morris, bass; and Derrick Freeman, drums. (Trombonist Corey Henry was in the audience.) It was historic in another sense since the group began their performance promptly (almost) at 7 pm (rather than the usual 10 pm). From now on, they will be there from 7 to 10 pm every Thursday night.

Another Thursday night group that I wanted to hear was the Tom McDermott Trio at Buffa's on Esplanade Avenue, at the edge of the Quarter. Pianist McDermott was joined by Aurora Nealand on soprano saxophone, clarinet and vocals. Nealand, a devoted Bechet disciple and California native, is one of the city's top young ladies in jazz. New Orleanian Nathan Lambert, a NOCCA grad, is a fine young bassist as well. This is a first-rate ensemble that can be heard every Thursday night from 8 to 11 pm.

See Photos page for pics of both of the above groups.

November 20
Trumpeters with local roots have been getting a good deal of national attention lately. Irvin Mayfield and Nicholas Payton were profiled in the "Jazz Times," and Troy Andrews graced the cover of "Downbeat."

November 19
Mayor Landrieu and a host of city officials were on hand yesterday to officially re-open Louis Armstrong Park, which had been left a mess by Hurricane Katrina and the bumbling efforts of a construction company hired by the previous mayor (who will remain nameless and hopefully forgotten). Among other things, the statue of Louis himself has been restored and given a new base overlooking the center of the expansive green space. Other attractive pieces of sculpture by various artists representing the likes of Buddy Bolden, Mahalia Jackson, a brass band, and Congo Square were also unveiled--and the bust of Sidney Bechet was re-located from the Congo Square area to a little grove in front of the Jackson Theatre. I chose to miss the opening ceremony and visit the site on the following day, a beautiful Saturday morning that made the whole setting even more attractive and appealing. Congratulations to the City Fathers for their efforts to restore this site and make it easily available to visitors once again.

Before I left the park, I stopped in to see a group of youngsters playing some familiar melodies in Perseverance Hall. It was the Saturday morning youth brass band program sponsored by the Jazz National Historical Park, just one of several such programs in the city to introduce young people to traditional New Orleans music. Programs of this kind assure us of the continued flow of young musicians into the professional ranks.

On the evening of the same day, I had the pleasure of attending the second free concert of the New Orleans Jazz Orchestra led by trumpeter Irvin Mayfield at the Odgen Museum of Southern Art on Camp Street (Warehouse/​Arts District). The 18-piece ensemble is a dynamite band composed of some of the top jazz talent in the city. Unlike other big bands that have come and gone in this town, the NOJO is embarking on its 10th year on the scene and continues to grow and become known throughout the country (and beyond). The two evenings of music were billed as "Honoring the Past, Transforming the Future," a phrase that aptly describes the band's respect for the music of Ellington and the greats of the past as well as creating and performing the original music of today.

Mayfield is on the faculty of the University of New Orleans, so it was no surprise to have a mini concert before the main show by a group of young musicians from UNO's New Orleans Jazz Institute--yet another organization devoted to introducing youngsters to jazz. What was a surprise was to see and hear the talent of these kids, especially the Richburg brothers: 10-year-old trumpeter Blair (his trumpet was nearly as long as his arm) and drummer Brian (12). Keep these two names in mind because I guarantee you that they will be gaining wide acclaim in jazz circles less than a decade from now.

Check out the Photos page for illustrations of the above.

November 13
I had the pleasure of attending yesterday afternoon's dedication of the renovated third floor of the Old Mint/​Louisiana State Museum (see next paragraph). The opening dedication was followed by music by a "new look" Treme Brass Band that included several truly outstanding young musicians from the city. The band was joined by yet another young group of Mardi Gras Indians known as the "Wild Mohicans." The two groups combined to lead the large crowd up to the third floor of the museum for a reception and a performance by an all-star band led by trumpeter Wendell Brunious and featuring 88-year-old trombonist Wendell Eugene. Others in the band were: Tom Fischer, reeds; Roo Johnson, trombone; Steve Pistorius, piano; Richard Moten, bass; and Gerald French, drums. (See also Photos page.) While this new venue now joins the existing Visitors' Center on N. Peters St. and Perseverance Hall in Armstrong Park, it will replace the Visitors' Center as the location for the free Saturday afternoon concerts put on by the Jazz Park. (For a complete schedule of events, click on the Park's link at the right.)

November 12
A ribbon-cutting ceremony will mark the opening of the third floor of the renovated Old U. S. Mint. A joint undertaking of the New Orleans Jazz National Park and the Louisiana State Museum, the third floor will serve as both a performance space and a state-of-the-art recording studio. The day-long celebration will begin at noon on the 12th and will be open to the public. For more, click on the Jazz National Park's link at the right.

November 10.
Bill Huntington Trio from Hot Springs, Ark. at Snug Harbor. Bill Huntington is a well respected New Orleans bass player, guitarist and educator. He was professor of jazz at Loyola University and at the University of New Orleans. He played and toured with musicians such as Ellis Marsalis, Moses Allison, Lionel Ferbos and Dr John. His legacy as an educator is invaluable and many of today's modern masters of the bass were his students. Bill evacuated from New Orleans for Hurricane Katrina with his wife in 2005 and settled in Hot Springs. This will be the first appearance in the Crescent City of his Arkansas trio, Clyde Pound on piano & Jay Patte on drums. I caught a bit of their gig at Snug, and it was good to see Huntington in typically top form again. Check out the group on the Photos page.

October 31
Happy Halloween!
It seems that I spent much of the past weekend with Lionel Ferbos and his band. On Saturday night (29th) Ferbos had his regular gig at the Palm Court Cafe. The honored guest for the evening was Pastor Vidar Svarva of the Norwegian Seamen's Church, who has become a great fan (and friend) of New Orleans jazz during the five years he has spent in the city. Unfortunately, he must now leave to take a post in Hamburg, Germany in early November. Needless to say, he will be greatly missed both by the church and the local jazz community.
Then, on Sunday the 30th, Ferbos and his band re-appeared at the last Nickel-A-Dance session of the season. The Maison was packed for the occasion though a sudden power outage in the neighborhood disrupted things for a while. See also Photos page.

New Orleans native Mahalia Jackson, considered by many the greatest gospel singer ever, was born in the Carrollton neighborhood on October 26, 1911. Accordingly, the centennial of her birth will be celebrated here beginning with a tribute concert at the Ogden Museum on October 20. Vocalists Leah Chase and Topsy Chapman will be featured, accompanied by a band led by pianist Matt Lemmler (including Evan Christopher and Herlin Riley). Beyond that, Dr. Michael White has put together a program of events at Xavier University beginning with a gospel mass on Sunday, October 23, and concluding with a centennial concert on the 26th. On the 27th, Bernice Johnson Reagon, co-founder of the ensemble Sweet Honey in the Rock will be the featured guest. Finally, Cook Theatre at Dillard University will present stagings of the musical "Mahalia" on the weekends of October 28-30 and November 4-6. Ms. Jackson died from a heart condition on January 27, 1972.

October 24
Michael White put together a wonderful program as part of the Mahalia Jackson centennial at Xavier University, which he called "The New Orleans Roots of Mahalia Jackson." It aimed to illustrate the various local musical influences on Jackson before she left the city in 1927: jazz (she heard Oliver, Armstrong and Ory before they left town), brass band music, the blues as sung by Bessie Smith and Ma Rainey, and sanctified gospel singing. He was ably assisted in his presentation by his Original Liberty Jazz Band: Gregg Stafford, trumpet; Lucien Barbarin, trombone, vocal; Detroit Brooks, banjo; Steve Pistorius, piano; Kerry Lewis, bass, tuba; and Herman LeBeaux, drums. Olivia Cooper and her spirited choir from the West Bank provided some fine gospel singing. Finally, Smith, Rainey and Mahalia herself were recalled by the powerful voice of Ms. Cynthia Girtley. A New Orleans native, Girtley was discovered by White less than two years ago and has already participated in a recording by him: "Adventures in New Orleans Jazz, Part I" (Basin Street Records). A second album, "A New Orleans Tribute to Mahalia Jackson," was produced by Ms. Girtley and is available on line or at the Louisiana Music Factory. "We merged traditional jazz," White says, "and the 1930s Mahalia gospel style to form a unique and exciting truly N. O. product. I am very proud of this one." Girtley is new to me, but she clearly has a mature gospel voice that deserves attention. Overall, it was an evening of excellent music and a most fitting tribute to Mahalia. (See also Photos page.)

October 23
The penultimate Nickel-A-Dance soiree for this season featured trumpeter(and vocalist) Gregg Stafford and his Jazz Hounds. The latter today included Wendell Eugene, trombone; Tom Sancton, reeds; Mari Watanabe, piano; Detroit Brooks, banjo; Kerry Lewis , bass; and Walter Harris , drums. At 88, Eugene is the second oldest (next to Lionel Ferbos) active jazz musician in the city.

October 18
Fritzels European Jazz Pub on Bourbon Street celebrated its 42nd anniversary as one of the city's leading venues for the presentation of traditional New Orleans jazz. An SRO crowd enjoyed the sounds of the excellent house band led by reedman Tom Fischer, who was joined by pianist Richard Scott (just back in town from his honeymoon), bassist Jesse Boyd and Gerald French on drums. (See also Photos page.)

Jazz at the Sandbar is back! The fall schedule is:
· Oct 5 Ellis Marsalis "Tribute to Thelonious Monk"
· Oct 12 Wess "Warmdaddy" Anderson
· Oct 19 Vocalist Rhondi Charleston & Guitarist Dave Stryker
· Oct 26 Drummer Herlin Riley
(November guest artists to be announced.)
Concert times: 7:00 - 9:30pm.
Location: HOMER HITT ALUMNI CENTER, University of New Orleans
(Milneberg Road at the Lake on UNO campus)
General Admission: $5.00 at the door.

October 16
Guitarist-vocalist John Rankin put together a fine group of musicians for today's Nickel-A-Dance series. Joining Rankin were Clive Wilson, trumpet; Tom Fischer, reeds; John Mahoney, trombone and piano; Jesse Boyd, bass; and Gerald French, drums. The versatile Mahoney is coordinator of jazz studies at Loyola University, and Rankin is also on the music faculty of the school. See Photos page.

October 13
The National World War II Museum is an ever expanding complex at the corner of Magazine Street and Andrew Higgins Drive in the Warehouse District. It has become an important venue for musical performances (and dances) featuring music of the late '30s and '40s. (For more, check out www.ddaymuseum.org)

The Falconaires, the fine 16-piece big band from the U. S. Air Force Academy, made their local debut before a big crowd on the 13th. They played familiar music made famous by the likes of Les Brown, Tommy Dorsey, early Kenton, and, needless to say, "Major" Glenn Miller. They are good musicians, and the dancers loved their music. The band will be performing in the area for about a week, including a concert at Loyola University on October 19. (See Photos page.)

October 9
The second in the Nickel-A-Dance series took place this afternoon at The Maison. The music was provided by German-Danish trumpeter Norbert Susemihl and his New Orleans All-Stars: Susemihl, trumpet, vocals; Louis Ford, reeds; Charlie Halloran, trombone; Detroit Brooks, banjo, guitar; Shae Cohn, piano; Kerry Lewis, bass; and Ernie Elly, drums. In sum, a fine group that kept the many dancers on the floor. Susemihl, from Hamburg, Germany but now living in Denmark, has been visiting N. O. at least since the 1980s and is thoroughly at home with the traditional N.O. sound. (See Photos page.)

October 5
The October schedule at Snug Harbor has many interesting entries. Check it out at www.snugjazz.com/​calendar.

October 4
French Quarter Festivals announce a new Musician Sponsorship Program. Our
Community now has one more way to support the music it loves.

NEW ORLEANS, LOUISIANA (October 3, 2011) - French Quarter Festivals, Inc. announces the launch of the 2012 Musician Sponsorship Program, a new initiative designed to help keep the 'largest free music festival in the South' a high quality event that celebrates the best of New Orleans culture, while keeping it accessible to everyone and contributing to the economic well being of the French Quarter, the City of New Orleans and the State of Louisiana.

Contact French Quarter Festivals, Inc. at 504-522-5730 (email: georgia@​fqfi.org) for more information about the Musician Sponsorship Program.

Lucien Barbarin and his band played for a full house of dancers at the first session of this year's Nickel-A-Dance series on Sunday, October 2 at The Maison on Frenchmen Street. I was particularly pleased to see the number of young people among the dancers. It bodes well for the future of our music, I think. (See Photos page.)

The Norwegian Seamen's Church, 1772 Prytania Street in New Orleans, is but one of many such churches sponsored by the government of Norway in major port cities throughout the world. It has been active in our city for more than a century and, for a variety of reasons, has come to be known as "the jazz church" (Jazzkirken) both here and in Norway.

On October 2, a key member of the church's staff, Mr. Vidar Svarva, will be leaving to take a position in Hamburg, Germany. In his five years in NOLA, Vidar has come to be well-known in the local music community because of his love of New Orleans jazz. His departure will not only be a significant loss to our church but to the local jazz community as well. There was a special jazz service at the church in honor of Mr. Svarva. The Leroy Jones Quintet played for the service. (See Photos page.)

Watch for the annual Nickel-A-Dance series to begin in October. The schedule:

Sun., Oct. 2: Lucien Barbarin and his Magnificent Seven
Sun., Oct. 9: Norbert Susemihl and New Orleans All Stars
Sun., Oct. 16:John Rankin & the New Orleans Swing Masters
Sun., Oct. 23:Gregg Stafford & the Jazz Hounds
Sun., Oct. 30 Lionel Ferbos and the Palm Court Jazz Band

Be sure to mark your calendars because these are some of the best social and musical events of the year. They will take place from 4-7 pm each Sunday afternoon in October (rain or shine) at the Maison, 508 Frenchmen Street. AND, REMEMBER, IT'S FREE! (See N. O. Jazz Celebration link at right.)

The Cultural Alliance of the Americas announces a concert "LOUISANA SWING, where Cajun meets Western Swing" on Saturday, October 1 at the Abita Town Hall, Abita Springs, LA (North Shore). Featured performers include Beausoleil, Michael Doucet, Don Vappie and the Louisiana Swing Band. Advance tickets are $25, $30 a the door. For details, vist www.caota.org.

September 29
Dr. David Baker--musician, composer, National Endowment for the Arts "Jazz Master," Distinguished Professor of Music and Chairman of the Jazz Department in the acclaimed School of Music at Indiana University, Bloomington, and conductor and artistic director of the Smithsonian Jazz Masterworks Orchestra--was in town to introduce new NEA Jazz Master Ellis Marsalis and help celebrate the "Dew Drop [Inn] Recalled." He gave a most interesting lecture at Loyola University today on the significance of jam sessions in the training of jazz musicians. He called such sessions one of the "main roads to be a successful player." Baker will be recognized with a book in his honor to be published by Indiana University Press in November. (I am proud to say that I have known Mr. Baker since we joined the IU faculty in the same year, 1966.) (See also the Photos page.)

September 26
For those interested in the New Orleans recovery, I strongly recommend the periodic publications of the Greater New Orleans Data Center (GNOCDC), the latest of which ("Who Lives in New Orleans Now?") can be found at their website GNOCDC.org.

The 19th annual Cutting Edge Music Business Conference is just around the corner once again. It is scheduled for September 21-24, and this year it will include the "NOLA Downtown Music and Arts Festival" that will "feature local, national, and international acts from places as far [sic] as Canada, London, and Guadeloupe." For more about the conference and festival see the link www.cuttingedgenola.com.

The Palm Court Jazz Cafe reopened, as promised, on Wednesday, September 21. The big news, however, is that Lionel Ferbos was back at his usual post (with trumpet in hand) on Saturday night, September 24. What is so remarkable about that is the fact that, at age 100, he has recovered from the three fractured ribs that he suffered just a month and a half ago--at least to the extent that he can play his horn once again. I might add that he looked great, and his singing voice was perhaps stronger than I've heard it in a long time. (See Photos page.)

September 17
Tim Laughlin and Connie Jones will be showcasing their fine new CD, "If Dreams Come True," at Snug Harbor this evening. These guys work so well together (in one another's band) probably because they are both native New Orleanians and March babies (despite their difference in age)... (That's just my guess, of course.) Shows are at 8 and 10 pm. Be there, if you can. Don't forget that a DVD was made to complement this CD. Both are available at www.timlaughlin.com. (Just for fun, I've added a pic on the Photos page of Connie and Tim playing together at French Quarter Fest in 1989! Do you recognize them?)


September 15
OffBeat Online is reporting today that "Tulane Unversity has named jazz trumpeter Nicholas Payton its Jazz Artist-in-Residence for 2011-2012. 'The jazz residency, a project of [the Gibson Foundation's] Music Rising,was created to help generate awareness of our important musical heritage,and to create a new generation of passionate musicians and advocates of New Orleans music,' said Rosalind Hinton, senior program manager of the New Orleans Center for the Gulf South at Tulane. 'This is a great moment for Tulane's jazz studies program and for Music Rising, to bring internationally acclaimed artists to campus to work with students.'"

September 6
The metro area of our city was pretty much spared by the arrival of Tropical Storm Lee. Despite four days of almost wall-to-wall rain (though the predicted 20" was never reached), dark skies and some street flooding, the city escaped serious injury. More serious flooding, however, was experienced in other parts of SE Louisiana. It's a lovely, cloudless, sunny day in New Orleans today...and, obviously, Lee did not turn into a hurricane.

One additonal bit of news. Harvard University announced today that Wynton Marsalis will continue his two-year lecture series with an appearance at Sanders Theatre on Sept. 15. The title of his lecture is "The Double Crossing of a Pair of Heels: The Dynamics of Social Dance
and American Popular Musics." "In this lecture, I will address the dynamic relationship between American music and social dance in our culture," Marsalis said. "It will focus on what our dancing and music tell us about our traditions, our sense of community, and our rituals of courtship." Traditional New Orleans jazz certainly started out as dance music, as we all know, and there is good evidence to believe that it is coming back as such. Tickets to the lecture are free and become available to the public on September 8...if you're in the neighborhood.

September 4
Thanks to Al Kennedy for the following note:

"Last Monday, Aug. 29, 2011, Lionel Ferbos, who fractured three ribs in early August, made one of his first public appearances at a special concert held at Irvin Mayfield's Club in the J.W. Marriott Hotel. Mr. Ferbos, New Orleans' oldest active jazz musician, enjoyed an evening full of music provided by Roy Hargrove, followed by Irvin Mayfield with a band that grew so large that many of the guest musicians had to stand with the audience.

As part of the evening's celebration, Mr. Mayfield presented Mr. Ferbos with a Lifetime Achievement award, and Mr. Mayfield's many warm remarks about Mr. Ferbos were broadcast by WWOZ. Mr. Ferbos and his family did not leave until the concert ended around midnight.

Mr. Ferbos is scheduled for a check-up this week, and he might get the clearance to begin practicing his trumpet again--after all, he is booked to perform at the Palm Court Jazz Cafe on Sept 24."

September 2
As we approach the Labor Day weekend and holiday, Tropical Storm Lee has entered the Gulf of Mexico and threatens to dump up to 20" of rain on Louisiana, we are told. The choppy waters of the Gulf have caused the off-shore oil facilities to shut down for the time being. So far, there has been no mention of the storm developing into a hurricane, but the possibility of street flooding in the city is very real.

August 30
I visited the Hurricane Katrina Memorial Mural which was unveiled in a ceremony yesterday evening. The mural is a listing of the names of the >1800 people (including "unknowns") whose lives were lost in the disaster. Those names are engraved on a polished granite wall of the Saratoga Building, 212 Loyola Avenue, one block from the Downtown Holiday Inn (the one with the clarinet mural). As I understand it, the project was overseen by local artist Terence Sanders, carried out by artist Nick Hasslock and funded by the Saratoga. (See Photos page.)

August 29
Even as we follow the last of "Irene," New Orleanians are reminded of the disaster called "Katrina"--and do not forget her sister "Rita", which followed soon after. It was six years ago today that Katrina struck our city, and we are still recovering from that blow. Things have improved considerably in the intervening years, but much remains to be done throughout the city, not least in the the most severely damaged areas of the Ninth Ward. Today, New Orleans is remembering the tragedy and the hundreds of lost lives with a host of "anniversary events." See Webmaster's Corner for some of my thoughts on the subject.

And the following from the fine organization, Sweet Home New Orleans:

"Today marks the 6th anniversary of Hurricane Katrina. This storm, and the flooding that followed, created devastating monetary, physical, and emotional damage, but we in New Orleans have been picking ourselves up everyday since then. And we couldn't have gotten to where we are now without the help of countless kind strangers, many like yourselves, taking your vacations here to volunteer, sending donations, and even simply vacationing here and reviving our tourism. And for that, we thank you!

"From now until August 31st get the 'Dear New Orleans' benefit album for only $6 in observance of the 6th anniversary of Katrina: www.dearno.la. Dear New Orleans is an inspiring compilation of NOLA-centric music featuring MMJ, OK Go, The Wrens and many more great artists. Album proceeds benefit Gulf Restoration Network (http:/​/​healthygulf.org/​) and Sweet Home New Orleans (www.sweethomeneworleans.org). More info here: www.dearno.la."

Needless to say, direct contributions to SHNO would be most welcome.

August 28
A brand new $13.2M project that promises to revitalize a neighborhood had its grand opening today. The New Orleans Healing Center, an attractive 55,000 sq.ft. complex of restored historic buildings, is located at 2372 St. Claude Ave. (at the corner of St. Claude and St. Roch) in Faubourg Marigny. Included in today's celebration was music by the Treme Brass Band, John Boutte and Wendell Brunious, and Henry Butler presented in a performance hall that can accommodate some 400 people. This, along with "affiliated businesses" such as Preservation Hall, OffBeat magazine and Dr. Michael White, assures that music will continue to be part of the variety of activities offered by the Center. For more about those activities, see neworleanshealingcenter.org. (See also our Photos page for some views of the complex.)

August 25
The Ellis Marsalis Center for Music in the Musicians' Village in the Upper Ninth Ward had its grand opening this afternoon. The celebration was attended by Harry Connick Jr. and Branford Marsalis, the prime movers behind the creation of the $7.4M state of the art structure, along with the governor, the mayor and other members of the Marsalis family (Ellis and sons Delfeayo, Ellis III and Jason). The Center is located on Bartholomew St. in the center of the Village. The complex includes an acoustically remarkable performance hall (where Branford says he intends to record) and a "hangout lounge" named after the Dave Mathews Band which provided a $1.5M matching grant for the facility. Other funds came from state and private sources. (See Photos page.)

Since we are about to remember the 6th anniversary of Katrina, I seized the opportunity to visit the Make It Right Project in the neighboring Lower Ninth Ward. I was pleased to see that the building of new homes along Tennessee Street and elsewhere continues to move forward.

In the evening of the same day, I went down to Irvin Mayfield's Jazz Playhouse in the Royal Sonesta Hotel in the Quarter where the last night of a 7-night run of charitable "Love Sessions" (friendly "battles" between the bands of Mayfield and Kermit Ruffins)took place before an enthusiastic SRO audience. Mayfield's band consisted of pianist Davell Crawford (who now lives in New York), trombonist Michael Watson, bassist Peter Harris and ace drummer Shannon Powell. Ruffins led a group composed of Yoshitaka Tsuji, piano; Kevin Morris, bass; and Dewon Scott, drums. The two trumpeters exchanged friendly trash talk throughout the night to the entertainment of the large crowd. These concert sessions were started by Mayfield in 2009 to commemorate Katrina and raise funds for a variety of local charities. The trumpet battles will continue from August 26 through August 29, featuring the bands of Mayfield and New York trumpeter Roy Hargrove. They will take place in Mayfield's new "I" club in the J. W. Marriott Hotel (formerly the Meridien) on Canal Street. See Photos page.

August 5
Deano Assunto, son of trumpeter Frank Assunto of the original Dukes of Dixieland, gave me a wonderful DVD that he has prepared of old TV and other clips of the early years of the band. There is some nice 1958 footage with Jack Maheu from old Ed Sullivan shows, for example.

Deano reports the following in an email: "I've been working with SRI Records out of Los Angeles, who just recently has made some recordings I supplied to them. We're working on a third CD, but the first two are now available. You can hear and/​or order these recordings by going to
www.srirecords.com." [They include live recordings from as far back as 1952, when Frank was just 17 and Freddie was 19.]

The big news for the first week of August was, of course, the annual Satchmo SummerFest. The weather was steamy, but the music was hot and the crowds enthusiastic. Unfortunately, we were all saddened to learn just the day before the event began that Lionel Ferbos, who was to have appeared and performed at the festival, fell and fractured three ribs (said to be hairline fractures). He was hospitalized briefly, but he clearly could not play nor get around comfortably--so he was absent...but greatly missed. (I am pleased to report, a week later, that Lionel is at home and happily receiving visitors...but stricly observing doctor's orders to not practice his horn for the time being.)

It all began with an opening reception on Thursday evening, August 4. The keynote "conversation" was between Armstrong House archivist Ricky Riccardi and Brit music writer Richard Havers, who discussed the brand new 10-CD boxed set (including 200 pp. book), "Satchmo," published by Universal/​Verve. This is a monumental project which, according to Havers, only began last November. He summarized the history of the undertaking, and the two then played some audio excerpts from the collection. Impressive.

Later in the evening, Dr. John joined with venerable producer George Avakian to discuss their upcoming CD, "Dr. John Meets Louis Armstrong." The album is due out next year on the Proper Records label. It should be interesting.

The festival got fully u
The Christina Perez Trio is one of many good young jazz groups in the city that play music of the pre-Bop era. The combo consists of Perez, vocals and guitar; Mark Welke, guitar; and Greg Agid, clarinet, tenor and soprano saxes. Agid is a fine young player whom I have mentioned in this space a number of times. I chanced upon the group for the first time at the Maison on March 27 and was impressed with their talents. They can be heard there on many Sunday evenings as well as at other venues around town, so look for them when you can. (See Photos page.)

The United States Postal Service unveiled a new jazz stamp in New Orleans at a ceremony Saturday, March 26, at 11 am at the Contemporary Arts Center, 900 Camp Street in the Warehouse District.
The Jazz at the Sandbar series at UNO has announced its schedule for the spring:

3/​16 Saxophonist VICTOR GOINES w/​ the UNO (student) Jazz Orchestra
3/​23 Vocalist SACHAL VASANDANI w/​ the UNO Jazz Voices
3/​30 Guitarist TODD DUKE w/​ the UNO Guitar Ensembles I & II
4/​6 Pianist LARRY WILLIS w/​ Chris Adkins' Combo and Ed Petersen's Combo
4/​13 Brazilian multi-instrumentalist CARLOS MALTA w/​ Brian Seeger's Combo & the Outer Galaxies Ensemble
4/​20 Clarinetist DR. MICHAEL WHITE w/​ the UNO Trad Ensemble & the UNO Hot Club
4/​27 Donald Harrison w/​ Tate Carson's Combo and Chris Adkins' Combo
5/​4 Drummer BRIAN BLADE w/​UNOJO & Brian Seeger's Combo
All performances are presented by the UNO Jazz Studies Program with support from the New Orleans Jazz Celebration, the UNO Student Government Association, and the Snug Harbor Jazz Bistro.
Concert times: 7:30 - 10:00pm.
Location: Flambeau Room, UNO University Center, Lakefront Campus. General Admission: $5.00. Faculty, Staff & Student Admission: FREE.

I attended the first in this series of concerts featuring the wonderful saxophonist (tenor and soprano) Victor Goines. (Unfortunately, he left his clarinet at home for this gig...) Goines has been director of the Northwestern University jazz studies program for the last three years after leaving a similar post at Juilliard. Goines was joined and backed by the talented UNO Jazz Orchestra. A member of that band, incidentally, is trombonist Wes Anderson IV, who happens to be the son of saxophonist Wess "Warm Daddy" Anderson, who, like Goines, is a New Orleanian who has worked with Wynton Marsalis.

I also attended the performances of pianist Larry Willis on April 6 and Dr. Michael White on April 20. In the latter, talented local multi-instrumentalist Matt Perrine directed UNO's traditional jazz unit. It's great to see a university jazz program these days that gives serious attention to the early history of jazz. (See Photos page.)




One of the aims of my new book, Traditional New Orleans Jazz…, was to emphasize that trad jazz is still alive and well in our city. Another aim was to show that the city acts as something of a magnet for talented young musicians from far and near who want to play this music. What I would like to say at this point--I expect to say more in due course--is that both phenomena, if anything, are more true now than ever.

All one needs to do to experience these happenings is pay a visit to the neighborhood that is fast becoming the current focal point of the New Orleans music scene, that area (Marigny) which centers upon Frenchmen Street in the blocks just across Esplanade Avenue from the French Quarter. In clubs such as the Spotted Cat, the Maison (both upstairs and downstairs) and d.b.a. one can hear almost every night groups that feature many fine young musicians playing music of the '20s and '30s. The Frenchmen Street music scene is not new, but I would say that it has become increasingly hot since the devastation wrought by Hurricane Katrina. In fact, a number of these bright young talents immigrated to the city from around the country to help us recover from that disaster. They started out by busking as street musicians in the Quarter.

Who are some of these young lions, and from where have they come? I would begin with trumpeter Ben Polcer, 32, a first-rate player who grew up in New York City as the son of veteran Condon's trumpeter Ed Polcer. Ben met up with a young clarinet player from Philadelphia by the name of Michael Magro whose idol is clearly George Lewis, and they formed a group called Loose Marbles. I first heard the Marbles at Tom McDermott's home four or five years ago. The group still exists, but the personnel has changed over the years. They added a young lady on piano, Shaye Cohn, 28, also from the East Coast, who happens to be the daughter of well-known jazz guitarist Joe Cohn and granddaughter of the late, great saxophonist Al Cohn. Shaye is conservatory-trained and a multi-instrumentalist. Playing cornet, she has lately started her own group known as Tuba Skinny (who just issued their third CD). A wonderful blues singer in that group is a young lady by the name of Erika Lewis. Still another wonderful young female singer of the blues is Meschiya Lake, who grew up in the Black Hills region of South Dakota. Keep an ear out for both of these young ladies. A fine trombonist, Charlie Halloran, 27, can be heard with the Marbles, but, like Polcer, he also appears at Fritzels and other venues in the city.

I could go on with this list of new young players in town, but these are at least some of my favorites. The important thing--besides their musicianship--is that they have created a following of equally young people who show up at their gigs and are terrific dancers. The whole conjures up images of a bygone era and provides a renewed vitality to the traditional jazz scene in the Birthplace of Jazz. (See Photos page.)

The latest issue of The Jazz Archivist (Vol. 23, 2010), the occasional publication of the Hogan Jazz Archive at Tulane University, contained two interesting autobiographical pieces. The first (pp. 2-20) is by clarinetist Michael White, entitled "Dr. Michael White: The Doc Paulin Years (1975-1979)." The second (pp. 21-29) is "My Life in Jazz" by author and Bolden historian Don Marquis. I recommend both warmly. If you would like to be a subscriber to this periodical, write the Hogan Archive, 6801 Freret Street, Room 304, Tulane University, New Orleans, LA 70118-5682.

Al Kennedy reports that the annual spring Nickel-A-Dance series begins on Sunday, March 13, and continues for each of the following three Sundays. The free program is from 4 to 7 pm at The Maison on Frenchmen Street and features the following lineup:

March 13: Frank Oxley's Joint Chiefs of Jazz
March 20: Orange Kellin's New Orleans Deluxe Orchestra
March 27: Lionel Ferbos & The Palm Court Jazz Band
A lagniappe performance on April 3: Benny Grunch and the Bunch

These gatherings are always a great place to meet friends and hear good music. Y'all come down and enjoy yourselves.


I dropped in to Fritzel's last night (January 27) for the first time in months (my bad) and experienced a very pleasant evening of music. Tom Fischer's Quartet--Fischer (clarinet, vocals), Richard Scott (piano, vocals), Brad Truby (bass) and Gerald French (drums, vocals)--provided the music. A hot and swinging group that brought to mind the Goodman small groups of the '30s. (See Photos page for a couple of pics.)

An unexpected surprise was the appearance, about halfway through the first set, of veteran NY cornetist Ed Polcer. Polcer (soon to be 74) has been splitting his time between New York and New Orleans for the last year or so, spending increasingly more time here. One of the reasons for that of course is his son Ben who has been living here and playing with a variety of groups--perhaps most notably the fine young band known as "Loose Marbles"--for three or four years now. (Incidentally, I intend to be writing about the number of very talented young musicians in town at some length in the near future.) Ed, who can be heard at a number of local venues (including the early show on Saturday nights at Fritzels), added that another motive for being here is that there is much more work for him than in the Big Apple. I have to say that it is very nice to have another veteran pro like him in town.

Fritzel's also celebrated the release of its new CD, "Fritzel's New Orleans Jazz Band, Volume 2" that very evening. It is a collection of 15 trad evergreens played by the guys whom one can hear on a regular basis at the club: cornetists Charlie Fardella and Chuck Brackmen; reedmen Fischer and Tim Laughlin; pianist Scott; Barry Foulon, banjo; bassists Truby and Jesse Boyd; and drummers French and Bryan Besse. With guys like that, how can it be bad? For details, visit www.fritzels.net or email bdt@​cox.net.

The New Orleans Jazz and Heritage Festival announced its music schedule in mid-January. For details, see the quick link at the right. This year's Jazzfest runs from April 29 to May 1 and May 5 to May 8.

The annual NEA Jazz Masters awards ceremony took place at Lincoln Center in NYC on January 11. For the first time in history a family--the Marsalis Family (our own Ellis and sons Wynton, Branford, Delfeayo and Jason) were among the honorees. Other Jazz Masters named this year were flutist Hubert Laws, saxophonist David Liebman, composer Johnny Mandel and producer Orrin Keepnews. As noted below, Liebman and Delfeayo and Jason Marsalis performed earlier in the week at the JEN Conference in New Orleans.

A related sad note. It looks these will be the last Jazz Masters awards to be made. As of mid-February, the word out of D. C. is that the NEA is cutting out the program for budgetary reasons. Stay tuned for details.

This year's French Quarter Festival, the 28th annual, has added a day to it's schedule. It will now begin on Thursday, April 7 and run through Sunday, April 10. It's not too soon to start making your plans to be part of it. For updated details, see the quick link at the right.
The annual meeting of the Jazz Education Network (JEN), "Honoring Performance in the Birthplace of Jazz," opened at the historic Roosevelt Hotel on January 5. The conference was expected to attract some 2,500 jazz musicians and educators from around the country and beyond, including a number of very large names in the business, who would be engaged in seminars, panels, clinics and live daytime and evening performances through January 8. The schedule of activities can be seen at www.jazzednet.org.

The event got off to a slow start on the 5th, with most of the day devoted to registration of the conferees. There were two live concerts in the evening, however. Topsy Chapman and her fine vocal group, Solid Harmony, opened the evening in the hotel's legendary Blue Room, followed by Dr. Michael White and his quartet. While I missed the perfomances because of a raging cold, I was pleased to see that two excellent groups from our city were accorded opening day billing on the schedule, especially since both are solid members of the traditional music scene in New Orleans.

The last three days of the conference featured many outstanding performances, only a fraction of which I was able to attend. Among the jazz notables who made appearances were legendary pianist Junior Mance and his quintet, pianist Lynne Arriale and her trio with trumpeter Randy Brecker and soprano saxophonist Dave Liebman who appeared with the excellent U. S. Air Force big band, the Airmen of Note. All received rousing receptions from the more than 2000 people who jammed the Roosevelt Ballroom for each evening performance.

Several local bands also brought the ballroom's crowds to their feet: the Dirty Dozen Brass Band, the fine John Mahoney Big Band featuring clarinetist Evan Christopher (this was the first time they had worked together), Don Vappie and his Creole Serenaders and the brash Uptown Jazz Orchestra of trombonist Delfeayo Marsalis. The latter was truly a big band. How often does one see a seven-piece reed section? I must say that I think Delfeayo has finally found his niche with this exciting unit. Likewise, Mahoney and his excellent aggregration deserve to be heard much more widely than they are at present.

Just a few oddments in conclusion. A couple of Dukes of Dixieland alumni--trombonist Harry Watters and trumpter J. B. Scott--were on the program. SFC Watters leads the U.S. Army's Swamp Romp, a popular dixieland and blues group. He also sat in with the Dirty Dozen. Scott, on the jazz faculty at the University of North Florida, performed with a group of UNF faculty and alumni, including saxophonist Bunky Green.

Look for the release in March of the book and six CD set JAZZ: The Smithsonian Anthology. This project promises to outdo all previous Smithsonian history of jazz anthologies. It consists of a well-illustrated book of some 200 pages plus 111 tracks of jazz classics on six CDs and will sell for $107. You can pre-order now, at a discount, at www.folkways.si.edu.

For a selection of photographs from the conference, see the Photos page.





The Grande Dame of New Orleans Jazz, Helen Arlt, was honored on December 18 with a celebration of her 89th birthday (which is on December 22). The event took place, fittingly, at the Norwegian Seamen's Church on Prytania Street, where Ms. Helen was actively involved in a variety of activities for many years. (She lived just across the street from the church until about a year and half ago.) A large crowd of friends and admirers were on hand for the occasion, including, of course, many local musicians. A band composed of Connie Jones, trumpet; Tim Laughlin, clarinet; Lars Edegran, piano; John Parker, banjo/​vocals; John Rankin, guitar/​vocals; Tom Saunders, bass; and Charles Kohlmeyer, drums, provided the music, and Helen was the first to take to the dance floor! Many other musicians were on hand: Evan Christopher, Eddie Bayard, Clive Wilson, Banu Gibson, David Boeddinghaus, Steve Pistorius, Larry Scala, Leroy Jones and Seva Venet, to name those whom I saw before having to leave early. I am told that most of them sat in later. (See Photos page, and I am adding a brief tribute to Helen on my home page.)




The Louis Prima Centennial Colloquium was held on Saturday, December 11 on the Tulane campus. Its primary purpose was to celebrate the life and accomplishments of a musician who combined art and entertainment.

The program consisted of presentations by five notable music historians and critics, who spoke on the following topics: Dan Morgenstern (Louis Prima and Pee Wee Russell: A Great Unsung Partnership); Will Friedwald (Deconstructing Louis: The Life, the Legend, the Lasagna); Marcello Piras (Prima di Prima [Before Prima]: Some Historical Background); Jack Stewart (Something Old, Something New, Something Unexpected); and Elijah Wald (Louis Prima and the Timelessness of Jumping, Jiving and Wailing). (See Photos page.)

In a nutshell, one might summarize the program as a means of illustrating that Prima began his career as a first-rate jazz trumpeter who attained a major reputation as such before reaching the age of 30, then chose to turn to a career as a musical entertainer. As a trumpet player, he was heavily influenced by Armstrong. As an entertainer, his influence extended to the likes of Tony Bennett and Sinatra and his Rat Pack. I must say that I took away from this program a new appreciation for Louis Prima.

The lectures were filmed in their entirety. For details for that and the colloquium in general, contact Dr. Bruce B. Raeburn of the Hogan Jazz Archive at Tulane, one of the sponsoring organizations, at raeburn@​tulane.edu.

And when you are next in the French Quarter, check out Legends Park on Bourbon Street, where statues of some of the city's entertainment legends stand. A statue of Louie Prima was added to the group on December 4.

The N.O. Jazz&Heritage Foundation is sponsoring the third annual Treme Creole Gumbo Festival December 11 and 12 at the J&H Center, 1225 N. Rampart St. The headliners include Kermit Ruffins, Big Sam's Funky Nation, John Boutte, Glen David Andrews, Shamarr Allen and the Treme Brass Band. For the complete schedule, see TremeGumboFest.com.
Jim and Martha Hession, joined by bassist Steve "Trapper" Braun, put on a wonderful mini-concert on November 29 at the Crescent City Health Care Center to honor their friend and musical colleague Jack Maheu who is a resident at the Center. Part of the reason for their doing so was simply a gesture of friendship, but they were also saying goodbye to their friend. Maheu, 80, will be leaving New Orleans on Saturday, December 4 and heading to Ithaca, New York where he will take up residency with his son John and family. For those wishing to contact Jack, he can be reached (for the time being, at least) at: 117 James St., Ithaca, NY 14850 (telephone 617/​319-0045). Jack will be missed by his many friends in New Orleans, but we know that he will be in very good hands with son John. (See Photos page.)
Sad news. Richard "Dickie" Taylor, drummer and former leader of the Dukes of Dixieland, is seriously ill. He is in the Intensive Care Unit, room 211, of the Heart Hospital in Lacombe, LA (North Shore). His family could be reached via the following telephone number: (985)774-3264. See Comings & Goings.
A memorial celebration for the late Walter Payton Jr. was held on Saturday morning, November 20, at Preservation Hall. After a half-hour ceremony inside the Hall (for musicians, relatives and close friends), presided over by the Hall's director Ben Jaffe, the musicians emerged and made their way through a huge throng that had gathered outside the building. The second-line parade proceeded from St. Peter St., turning right on Bourbon, then to St. Philip St., pausing at McDonough 15 School where Payton taught music for so many years, and on through the French Quarter to Jackson Square. The large turnout was a clear reflection of the community's affection for Mr. Payton. (See Photos page.)
I finally got around to checking out the fall Sandbar Series at UNO by attending the final performance of the season (the series will resume in the spring) on November 17. The evening's concert featured vocalists, first the UNO Jazz Voices, a student ensemble led by faculty member Cindy Scott. I was impressed--especially with the student voices of Myriam Gaasbeek (from The Netherlands) and Megan Tengel. Also noteworthy was pianist-vocalist Emilio Avila. Scott deserves kudos for her work with this group of talented young people.

The main attraction for the evening, however, was San Francisco-based singer Jacqui Naylor. She is a highly regarded rising star in the jazz vocal field with a strong voice and very distinctive jazz-pop style and approach to her craft. With a half dozen or more CDs already on the market, she is a voice very worth watching. She was joined on one of her original compositions, "Celebrate Early and Often," by the student vocal group. Naylor was scheduled for an appearance at Snug Harbor on the following evening. (See Photos page.)
Tim Laughlin reports that this year's "Taste of New Orleans" evening will feature the music of Irma Thomas, Rockin' Dopsie Jr. and himself. The event will be held at The Sugar Mill, 1021 Convention Center Blvd. Friday, December 10 (7:30-10:30 pm). Tickets are available online at www.cyo-no.org. (Advanced purchase is recommended because same-day ticket availability will be "very limited.") The proceeds go to a worthy cause: the Catholic Youth Foundation USA.

The second annual New Orleans Traditional Jazz Camp (for adults 21 and over) is scheduled to take place June 5-10, 2011 and applications are now being accepted. See the link at the right for details.
The Norwegian Seamen's Church has announced the musical program for its second annual Scandinavian Festival on the weekend of November 5-7. Lars Edegran (piano, banjo) will open the festivities from 10 am to noon on Friday. From 3 to 6 pm that afternoon Seva Venet and his string band will perform. Pianist Paul Longstreth will be heard from 11 am to 3 pm on Saturday, followed by gospel singer Sharon Nabonne and the Norwegian Church All-Star Band from 4:30 to 7:30 pm. Longstreth will be back for a jazz service on Sunday from 11 am to 1 pm. The church hosts jazz services on the first Sunday of each month. (See Photos page.)

A Celebration in Honor of Herman Leonard's Life was held at the Ogden Museum of Southern Art on Saturday, November 6. (See Photos and Comings & Goings pages.)


The annual Nickel-A-Dance series got off to a most auspicious start on October 3 with a scintillating performance by drummer Shannon Powell's "Traditional All-Stars". The highly animated leader was joined by Mark Braud (trumpet and vocals), Ronell Johnson (trombone), Charlie Gabriel (clarinet), Christian Winther (tenor sax), Ricky Monie (piano), and Roland Guerin (bass)--a truly star-studded cast of local musicians. Powell's driving percussion had the band swinging at a high energy level for all three sets, keeping the dance floor of the Maison fully occupied throughout. (See Photos page for all bands.)

Another fine group graced the Maison's stage on October 10: the Porch Party Jazz Band with Brian O'Connell and Connie Jones. Joining Brian on clarinet and Connie on cornet and vocals were Ronell Johnson, trombone; Seva Venet, guitar; Chuck Badie, bass and vocals; and Ernie Elly (drums).

The third week in the series, October 17, featured hot clarinetist Evan Christopher and his Clarinet Road: Duke Heitger, trumpet; Matt Johnson, guitar; Todd Duke, guitar; Peter Harris, bass; and Charles Kohlmayer, drums. The two fine guitars give the band a Django feel, which of course Christopher is very at home with. It was good to have Heitger back in town for a few weeks. His playing is as good as ever. In fact, he did a beautiful intro to the wonderful evergreen, "Gee, Baby, Ain't I Good to You," which was sung by surprise vocalist Anais St. John. She said this was the first time she has sung with Christopher but hoped it would not be the last. Altogether, a truly fine session--as expected.

And week number four in the series featured Don Vappie and his Creole Jazz Serenaders in an excellent performance. In addition to Vappie (banjo, guitar and vocals), the band consisted of Tom Fischer (clarinet, alto sax), Ray Moore (tenor sax, clarinet), Charlie Fardella (cornet), Bobby Campo (trumpet), Mike Esneault (piano), Richard Moten (bass) and Troy Davis (drums). This outstanding group cooks. They should be touring because they deserve to be heard much more widely.

And, as always, Lionel Ferbos and the Palm Court Jazz Band closed out this year's series on Halloween, October 31. Ferbos was joined by Brian O'Connell, clarinet; Ronell Johnson, trombone; Seva Venet, guitar; Chuck Badie, bass; and Ernie Elly, drums. And, as always, Nina Buck and her staff from the Palm Court were on hand to provide a complimentary buffet dinner (red beans & rice, potato salad, ham, etc.) to all in attendance. Big kudos to Nina once again.
The Palm Court Jazz Cafe re-opened on September 26, and I dropped by to check out the scene on the 30th. It was a great night of music with an excellent band, fronted by the fine reedman Otis Bazoon. He was joined by top young trumpeter, Leon Brown, and ace pianist David Boeddinghaus. Guitarist Steve Blailock was back in town for the gig, and Bernie Attridge (bass) and Herman LeBeaux (drums) filled out the rhythm section. (See Photos page.)

Trumpeter Duke Heitger has been back in town for a couple of weeks. He appeared with trombnist Lucien Barbarin and his Sunday Night Swingsters at the Palm Court on October 24. Tom Fischer (clarinet), Steve Pistorius (piano), Kerry Lewis (bass) and Gerald French (drums) joined Barbarin and Heitger to produce an evening of first-rate music. Duke will be making at least one more appearance at the P. C. (October 31) before heading back to family in Germany. (See Photos page.)

I stopped in at the Palm Court on October 31 because I heard that top European clarinetist Engelbert Wrobel would be playing with the Sunday Night Swingsters...and so he was. I had met Wrobel at the Ascona, Switzerland festival a few years ago and was very impressed with his playing. So, I was pleased to have an opportunity to hear him once again...and I was not disappointed. He has been in town--for the first time--for a week with a German tour group and was being shepherded around (and invited to sit in) by his good friend Duke Heitger. He can be heard on Heitger's excellent new CD, "The International Hot Jazz Quartet: Havin' a Ball" on the Arbors label. For more about Wrobel and his band back in Cologne, Germany, check out his website at www.engelbertwrobel.de.

Incidentally, Heitger was set to return to Germany on November 2, but he said that he would be back here on November 18 when he will be appearing with clarinetist Tim Laughlin at the Court. His frequent flyer miles must really be piling up...